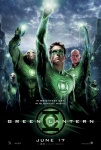 Warner Bros.' expensive and risky attempt to create another viable comic book-based movie franchise got off to a slow start as Martin Campbell's Green Lantern earned an estimated $52.7 million at the weekend box office. Green Lantern still easily took the box office crown, but given the level of marketing support (estimates range as high as $100 million), the fact that it finished well behind Marvel Studio's Thor's $65.7 million opening and even south of Fox's X-Men: First Class' $55.1 million has to be seen as disappointing.
Weekend Box Office (Studio Estimates): June 17 - 19, 2011

Film

Weekend Gross

Screens

Avg./

Screen

Total Gross

Wk#

1

Green Lantern

$52,685,000

3,816

$13,806

$52,685,000

1

2

Super 8

$21,250,000

3,408

$6,235

$72,781,000

2

3

Mr. Popper's Penguins

$18,200,000

3,339

$5,451

$18,200,000

1

4

X-Men: First Class

$11,500,000

3,375

$3,407

$119,925,000

3

5

The Hangover Part II

$9,635,000

3,460

$2,785

$232,674,000

4

6

Kung Fu Panda 2

$8,700,000

3,469

$2,508

$143,343,000

4

7

Bridesmaids

$7,487,000

2,573

$2,910

$136,840,000

6

8

Pirates of the Caribbean: On Stranger Tides

$6,236,000

2,742

$2,274

$220,337,000

5

9

Midnight in Paris

$5,237,000

1,038

$5,045

$21,799,000

5

10

Judy Moody and the NOT Bummer Summer

$2,241,000

2,524

$888

$11,167,000

2

Green Lantern only made it to #20 on the list of best superhero movie debuts and it would drop another 10 places or so if the numbers of its nearest competitors were adjusted for ticket price inflation.
Despite 3-D presentations at 2,711 theaters, the extra-dimensional showings only accounted for 45% of Green Lantern's take, which is better than Pirates of the Caribbean's all-time low for an action tentpole of 37%, but not nearly as strong as Thor's 60%, which was aided by IMAX screenings. Judging by Green Lantern's initial numbers it does appear that there is something of a backlash against 3-D, or at least against the high prices for 3-D showings.
As might be expected for a comic book movie that apparently had some trouble transferring its comic market popularity to mainstream audiences,
Green Lantern's
opening weekend moviegoers were primarily male (64%) and older (63% over 25, with just 19% under 18 in spite of the film's "PG-13" rating).
Green Lantern
could get a bounce on Father's Day, and might finish better than the $52.7 million estimate, but the drop-off from Friday's $21.6 million to Saturday's $16.8 is quite troubling. After getting off to a strong start at Thursday midnight shows (see "
Green Lantern Solid at Midnight Shows
"), which helped fuel Friday's numbers, it appears that those most interested in seeing the film saw it right away, and that word-of-mouth did help the film sustain its solid opening day. Audiences gave the movie a mediocre "B" CinemaScore.
While it's too early to stick a fork in the Hal Jordan epic, the signs are not at all encouraging at this time. Overseas the movie did top the charts in the U.K., but its opening was well behind that of
X-Men: First Class
, and the film's Russian and South Korean debuts were disappointing. Given that
Green Lantern
, which cost over $200 million to produce, will have to gross well over half-a-billion dollars worldwide just to break even, consternation is undoubtedly building at Warner Bros.
According to
Deadline Hollywood
insider Nikki Finke, Campbell, who has already indicated that he would not be interested in directing a sequel, will likely take at least part of the blame if the studio's ambitious goal of creating a new franchise is not met. But Finke also adds: "The truth is Geoff Johns, DC Entertainment's chief creative officer who also writes the
Green Lantern
comics, was integrally involved (reputedly even the deciding vote) on every big decision on this movie starting with the writers. And he's a very controversial figure, to put it mildly. So he'll come out of this weekend either the goat or the hero." Although the pundits are all probably itching to start writing about the
Green Lantern's
elaborate cosmology being too much for mainstream audiences, it's still a little early for a post mortem, though right now it looks as if this isn't exactly Johns'
Brightest Day
.
Meanwhile J.J. Abrams' Super 8 weathered the competition from the Green Lantern very well, dropping just 40% in its sophomore frame. Super 8 managed to nose out Mr. Popper's Penguins, which in spite of the popular tuxedo-clad birds and the presence of Jim Carrey, hit the low end of its expectations as well with an $18 million opening. Carrey's movie attracted an audience that was predominantly female (56%) and younger (58% under 25).
X-Men: First Class fell 52.3% as it earned $11.5 million in its third frame. Its domestic total of $119.9 million is the lowest of any X-Men movie at this stage, but it has done better overseas and its worldwide gross is now $282 million.
Warner Bros.' The Hangover Part II slipped 45.5% and finished in fifth. The Hangover sequel has now earned $488 million worldwide, which makes it the highest-grossing "R" rated global comedy ever.
Kung Fu Panda 2 finished in sixth place. With a domestic gross of just $143 million after 4 weeks, the movie has been something of a disappointment in North America, but it has earned twice as much abroad and the $150 million film is now firmly in the black with a worldwide gross of $423.4 million.
The "R" rated comedy Bridesmaids dropped just 25.6% in its 6th weekend. It has now made $136.8 million domestically, but evidently the film's raunchy comedy doesn't translate that well, since its North American earnings account for 94% of its worldwide total.
Overall the box office was down 22% from the same frame last year when Pixar's Toy Story 3 opened with $110 million. Green Lantern might be able to guard Sector 2814, but he couldn't come close to matching the box office heroics of Woody, Buzz, and the gang.