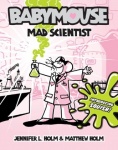 Babymouse #14: Mad Scientist PB
Publisher: Random House
Release Date: May 2011
Price: $6.99
Creator(s): Jennifer L. Holm & Matthew Holm
Format: 96 pgs., Full-Color; Paperback
ISBN: 978-0-375-86574-9
Age Rating: 9-12
ICv2 Rating: 3.5 Stars out of 5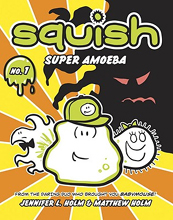 Squish #1: Super Amoeba PB
Publisher: Random House
Release Date: May 2011
Price: $6.99
Creator(s): Jennifer L. Holm & Matthew Holm
Format: 96 pgs., Full-Color; Paperback
ISBN: 978-0-375-84389-1
Age Rating: 9-12
ICv2 Rating: 3.5 Stars out of 5
Babymouse needs to come up with a science fair project, but she's not certain that studying amoebas--her father's suggestion--is the way to win the fair. But that is only until she meets Squish, a talking amoeba who lives in the pond behind her house. With Squish's help, she's sure to win! Meanwhile, though, Squish must deal with his own problems--namely a bully of an amoeba named Lynwood who has decided that Squish's ditzy paramecium friend Peggy is just the right size to be his afternoon snack!
The Holm siblings use volume 14 of their cute and popular
Babymouse
series to launch their new creation,
Squish
.
Squish
has all the humor and fun of
Babymouse
(including the snarky narrator), but in a more boy-friendly package: a male protagonist, green highlights rather than pink, amoebas and slime molds rather than hearts and cupcakes, and even a font which is more squared off. Matthew Holm's cartoon artwork moves smoothly from cutesy girl to squishy boy, retaining the fantastical and imaginative leaps that make
Babymouse
so enjoyable. Like Babymouse, Squish is not the popular kid (er, mouse, I mean amoeba) in school, which is much of the appeal of the titles. They're just the ordinary ones who are trying to deal with bullies and homework and the other messes that frustrate elementary school age kids.
Adult readers might long for Squish to stand up more decisively to Lynwood or for Babymouse to discover the joys of schoolwork, but kids will appreciate the reality of the tales, despite the unrealistic settings.
Squish
is a great addition to library collections, the perfect thing to hand to the brothers of your
Babymouse
fans and none of your readers have to read one in order to enjoy the other.
--
Snow Wildsmith: Writer and former teen librarian and ALA/YALSA committee member.