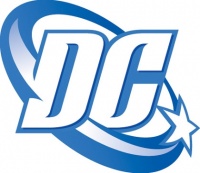 Based on its roadshow meetings with retailers, DC Comics has prepared a "Frequently Asked Questions" that covers the major topics raised by retailers at the meetings. In Part I, the answers provide the reasoning behind their radical strategy, why The New 52 is a "launch" not a "reboot," the relationship of the new titles to the continuity established by their predecessors, and perhaps most importantly the answers explain in detail the retailer incentives that include returnability, deep discounts, and variant covers.
Click here
for Part 2 of DC's FAQ for 'The New 52,' which includes discussions of DC's marketing plans and lots of new info on the DC Entertainment Digital Retailer Affiliate Program.

Key Messages

"DC Comics--The New 52" is the DC Entertainment publishing initiative that is an aggressive undertaking of launching the entire line of 52 DC Comics character series with all-new #1 first issues in September, accessible to both new and current readers.
The lead book is
Justice League
, written by Geoff Johns and illustrated by Jim Lee, in-stores August 31st.
Timely delivery of our books--top titles, week in and week out--is paramount to this new publishing initiative.
As partners, our goal is to provide brick-and-mortar retailers with world-class product (books with innovative stories and artwork that feature iconic characters) and world-class service (unrivaled marketing support, the industry's only co-op program, personal account service, etc.), and that is what we're going to continue to do.
48 of the 52 titles in September are $2.99, the standard price for a 20 story-page art & editorial book, showing our unrivaled commitment to making comics affordable for new and existing readers alike.
DC Entertainment is diversifying its distribution platform by being the first major publisher to launch same-day digital--making periodical titles available digitally the same day as print, at the same price, beginning August 31st.
In General

Why do it? There is a lot of speculation out there, are you "rebooting" the titles?

This is an epic and ambitious initiative that ushers in a new generation of comics for DC Comics and will set the tone for storylines and characters for years to come. With all of the titles starting at #1, our creative teams have the ability to take a more modern approach - not only with each character, but with how the characters interact with one another and the universe as a whole, and focus on the earlier part of the careers of each of our iconic characters. A time when they didn't have as much experience defeating all their nemeses. A time when they weren't as sure of their abilities. A time when they haven't saved the world countless times. It's this period that is rich with creative opportunity as we show why these characters are so amazing, so iconic and so special.
We think fans will be excited by this approach and The New 52 will provide DC Entertainment an opportunity to aggressively reach the widest possible audience worldwide, through captivating stories and an accessible entry point. We see great opportunities to tell new, contemporary, cutting edge stories building off the best known, classic stories that make up each of the title's back histories.
DC Comics has had a number of reboots, what makes this one different?

This is not a reboot, it's a launch. This is a historic initiative for DC Entertainment and the DC Comics characters - and a first in the company's publishing history. This next era of DC Comics characters will see 52 all-new #1 issues of its super hero titles at the same time AND same-day digital across the board. In addition to the number changes, our talented creative teams are working behind the scenes to create compelling storylines and new costume designs for many of our iconic DC Comics characters.
Why not call it a reboot?

It's not a reboot. A reboot is typically a restart of the story or character that jettisons away everything that happened previously.
This is a new beginning which builds off the best of the past. For the stories launching as new #1s in September, we have carefully hand-selected the most powerful and pertinent moments in these characters' lives and stories to remain in the mythology and lore. And then we've asked the best creators in the industry to modernize, update and enhance the books with new and exciting tales. The result is that we retained the good stuff, and then make it better.
Does The New 52 undo events or continuity that I've been reading?

Some yes, some no. But many of the great stories remain. For example--Batgirl.
The Killing Joke
still happened and she was Oracle. Now she will go through physical rehabilitation and become a more seasoned and nuanced character because she had these incredible and diverse experiences.
So will all titles be entry points or will you need to know back-story for some?

Each title will read as a #1 issue that will make jumping into the story extremely accessible for all types of readers. The stories are designed in a way that new fans will be able to pick up a book and immediately be drawn into the story, while at the same time existing fans will be engrossed by the new and epic moments that take place.
Do the new #1s mean that the previous stories didn't take place?

Our creative teams have a firm understanding of the storied heritage of characters and titles. The new #1 issues will introduce readers to a more modern, diverse universe of DC Comics characters, with some character variations in appearance, origin and age. All stories will be grounded in each character's legend--but will map to real world situations, interactions, tragedies and triumphs.
Overall, DC Entertainment is focused on putting out the most innovative storylines, featuring the most iconic characters, created by the most creative minds within the industry.
Might you just introduce a new DC "Ultimate" line and give it the spotlight for a few months, then have the opportunity to bring back the other continuity? Will this all be put back to "normal" after a few months?

No--this is the new universe of DC Comics characters. This is an epic and ambitious initiative that ushers in the next era of the DC Comics characters and will set the tone for storylines and characters for years to come. This is not an "event," because events expire.
Why are you changing the costumes?

DC Entertainment is led by some of the biggest fans of comics out there. We know that if Geoff and Jim are excited about the stories and artwork, we're on to something big. While there may be some naysayers, when we thought about starting the entire DC Comics universe line of comics with #1/first issues we looked at the benefits for the long haul, not just a year or two. Our goal is to create a watershed moment for DC Entertainment--and the industry as a whole--where fans will remember this as a time of innovation while maintaining DC Entertainment's commitment to creating entertaining and masterfully created stories.
Do you not care about your company's history? If you do this right, what do you want your legacy to be 75 years from now?

The legacy of DC Entertainment, and DC Comics before it, is based on the creativity of our editors and our creative talent, and our commitment to the best storytelling possible. DC has always been about character development and growth.
Take Batman for example. In the early days he was a vigilante who brandished a gun. Then he morphed into a whimsical character and then in the 1960's he became more of the gritty, grim avenger of the night. We can all agree that we are glad Batman evolved.
Our goal is to create a watershed moment for DC Entertainment--and the industry as a whole - where fans will remember this as a time of innovation while maintaining DC Entertainment's commitment to creating entertaining and masterfully created stories.
Specifically why end Action and Detective before they reach their 1,000th issues? Action Comics is the longest running American comic book, followed closely by Detective Comics, the company's namesake. Isn't renumbering these series actually a retreat from the love of "comics as comics"?

Our Co-Publishers and editors thought long and hard about this. It was an extremely important decision that was not taken lightly. But executing this unprecedented event meant taking creative risks on every level and pushing forward with big, new ideas. A partial renumbering would not have had the impact we needed to showcase the amazing changes and direction we have planned for the new DC Comics universe of characters. Counting issue numbers is focusing on the past, not the future.
Can this event fix/undo an event I don't like from the past?/ Can this event bring back a character from the past that I miss?/ Does this event change the status of (insert pretty much any character here)? What would you say to someone whose favorite superhero no longer exists?
Characters are always evolving in the DC universe and part of the evolution means that characters come and go. While not all current characters will be part of the new DC Comics line of books, we are confident the ambitious plan we are creating will introduce a new generation of protagonists and antagonists that will captivate readers.
We are kicking things off with our best and brightest characters and what makes them so compelling and great. Simply because you don't see a personal favorite in the September launches doesn't mean your favorites are gone. This is just the beginning.
Sales Incentives

What about returnability?

We are backing up our commitment to you and this launch, by putting our copies where are mouths are. We will be offering 100% returnability on 41 titles. Returnability on nearly 80 percent of the line allows retailers to order more boldly on these titles giving the books their best opportunity to reach new and existing consumers.
To qualify for returnability, your total post-FOC September orders (including Justice League #1) in retail dollars for DC periodicals must be 125% or more of your May post-FOC orders for DC periodicals. On retailer invoices dated 7/13/2011, retailers will receive their returnability target number. It will appear on the parent account invoice as:
MAY118215
DC THE NEW 52 RETURNABILITY TARGET NUMBER (NET). We're working with Diamond to establish a tracking system so that retailers can monitor their progress towards reaching their target number.
Retailers will be required to return stripped covers from the returnable issues along with an affidavit of destruction to Diamond Comic Distributors at a date to be named later. The return fee will be $.20 per cover. Also returnability will start one month after the date the issue goes on sale, but will be valid through mid-December 2011.
Graphic novels and DC Direct purchases are not included in the target.
The 41 titles eligible for returnability during the months of September, October and November are:
| | |
| --- | --- |
| All Star Western | Grifter |
| Animal Man | Hawk and Dove |
| Aquaman | I, Vampire |
| Batgirl | Justice League Dark |
| Batman and Robin | Justice League International |
| Batman: The Dark Knight | Legion Lost |
| Batwing | Legion of Super Heroes |
| Birds of Prey | Men of War |
| Blackhawks | Mister Terrific |
| Blue Beetle | Nightwing |
| Captain Atom | OMAC |
| Catwoman | Red Hood and the Outlaws |
| DC Universe Presents | Red Lanterns |
| Deathstroke | Resurrection Man |
| Demon Knights | The Savage Hawkman |
| Detective Comics | Static Shock |
| Frankenstein, Agent of S.H.A.D.E. | Suicide Squad |
| The Fury of Firestorm | Superboy |
| Green Arrow | Supergirl |
| Green Lantern Corps | Superman |
| | Voodoo |
What are the incentives for the other 11 titles?

Variants

For variants, we chose our core iconic titles, the ones that you tell us your consumers want most. And of course, we sought out those titles with the most compelling visuals. This variant program will continue for September, October, and November at least. We will be offering variants on five different titles, effectively one each week. Some specifics so far:
Justice League#1 Variant Editions

For every 25 copies of the Standard Edition ordered, you may order 1 Variant Edition with a cover by David Finch
For every 200 copies of the Standard Edition ordered, you may order 1 Variant Edition with a pencil cover by David Finch
Variant Covers

One title featuring a variant cover edition each week in September (plus a 1 in 200 pencil version). The quantity of variant editions you may order will be determined by your lowest ordered of title of The New 52 on FOC in the same week:
Action Comics #1 Variant Edition

Cover by Jim Lee and Scott Williams
Batman #1 Variant Edition

Cover by Ethan Van Sciver
Green Lantern #1 Variant Edition

Cover by Greg Capullo
The Flash #1 Variant Edition

Cover by Ivan Reis and Tim Townsend
Deep Discounting

For deeper discounts, we chose those break-out titles which can help you focus your staff and customers. Books that have real potential that is arguably hidden potential to-date, a real compelling creator, a real obvious jumping-on point for your readers, etc. We will be offering an additional 15% discount on six different titles. This deep discounting will continue for September, October, and November at least.
•
Batwoman
#1
•
Green Lantern: New Guardians
#1
•
Stormwatch
#1
•
Swamp Thing
#1
•
Teen Titans
#1
•
Wonder Woman
#1
Which of the 52 titles are not $2.99?

Four of The New 52 are $3.99 with additional pages of content. They are:
•
Justice League
•
Action Comics
•
All Star Western
•
Men of War
Why didn't you tell us about this earlier this year at the ComicsPro meeting in Dallas, at the Diamond Retailer Seminar in Chicago or anytime prior to when the news broke?

Our plans have been evolving all year, and most of our planning occurred after both of those meetings. Once our idea developed, we didn't want to spoil the surprises we have planned. In order to make sure we can tell the best stories possible, we needed to keep initial details under wraps. We value the relationships we have with our retailers and we'll be sure to continue working as partners over the course of the launch, and beyond. You'll be getting news in advance moving forward, as you should.
Isn't there now a "dead stock" issue on all previous comics and books that are made stale by this move?

We feel consumers buy and look for quality. That means the backlist that was and is popular will continue to be so. And that the best new stories will get readers excited about reading and finding all the great stories and comics which preceded September. The months leading up to September are the set up for the incredible changes we have planned. We feel readers will want to see how the current stories conclude and new stories play out as we ready the pipeline for the best to come. Retailers who believe their customers will skip some of our titles prior to The New 52 have the option of reducing their orders pre-FOC.
Will DC Entertainment be able to get comics to us on-time for Wednesday sales on 9/07, the Wednesday after Labor Day?

We are working with Diamond to insure timely delivery of our comics that week. We hope to have details to you pre-FOC.
Any way we can read copies of the comics earlier?

In today's digital world it is extremely difficult to release advance copies of books because of piracy issues. We have seen advance copies get immediately scanned and released wide on the Internet--which in the end only decreases your ability to sell hardcopies. In the past we have sent advance black and white issues, but that was in the pre-digital era.
We are speaking with Diamond about previewing technology that gives retailers a secure first-look at comics. We will provide you more information as soon as we have it.
Click here
for Part 2 of DC's FAQ for 'The New 52,' which includes discussions of DC's marketing plans and lots of new info on the DC Entertainment Digital Retailer Affiliate Program.