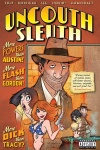 Uncouth Sleuth TP
Publisher: Fulp Fiction
Release Date: August 2011
Price: $12.99
Creator(s): Charles Fulp (author); Craig Rousseau (pencils); Norman Lee (inks); Dean Yeagle and Steve Anderson (cover)
Format: 88 pgs.; Full-Color; Trade Paperback
ISBN: 978-0-9826-3330-4
Age Rating: PG-13
ICv2 Rating: 2.5 Stars out of 5
Harry Johnson, P.I. is about to embark on the adventure of a lifetime when he accepts the Case of the Crabbes. Now if only he and his sidekick, exotic dancer Fanny Sellers, can survive cannibals, leeches, Nazis, and Harry's lusty impulses!
Fulp's self-published one-shot refreshingly doesn't pretend to be anything other than juvenile humor, clearly aimed at readers who will laugh at the main character's name and the rest of the cheesy puns and sexual allusions. The plot is only important as a vehicle for delivering those jokes and for parodying the Indiana Jones movies. The women all have gigantic breasts and very little clothes and the men are a variety of caricatures themselves, but everyone gets at least one chance to be intelligent and save the day, or at least to save the pretty girls. The broad humor is consistent throughout the book and Fulp remembers to stop before it gets old. Rousseau's art, which clearly shows his superhero comic background, is strong enough to hold up the wacky story and the bright colors are a perfect match for the silly action scenes. The publisher aims a bit low in the rating; the humor is mature enough that it skews more towards an "R" rather than "PG-13." But for adult readers who want to embrace their inner pervert,
Uncouth Sleuth
is a fun, politically incorrect way to do so.
--
Snow Wildsmith: Writer and former teen librarian and ALA/YALSA committee member.