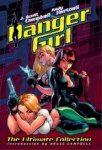 Lots of projects of interest to pop culture retailers were bandied about in Hollywood this week with some projected as feature films and others as TV series.
Movies
Let's start with the feature films, where the director of Universal's big budget modern Mummy films, Stephen Sommers, is writing and directing a new Dracula film, currently titled Van Helsing. Hugh (X-Men) Jackman will star as the film's eponymous hero, while Richard Roxburgh (League of Extraordinary Gentlemen) will play the screen's foremost bloodsucker. Sommers' screenplay for Van Helsing includes encounters with the Wolf Man and the Frankenstein monster, so this film should pique interest in the key Universal monsters. Numerous figures and toys featuring the classic Universal monsters are available along with DVDs, posters, and apparel items.
So you thought Jar-Jar Binks was obnoxious -- how about a CGI/live action Garfield? According to Variety, director Peter Hewitt will direct the comic strip-based film for Twentieth Century Fox. The most hopeful element in the Garfield project is the fact that two of the writers of Toy Story, Joel Cohen and Alec Sokolow, will be penning the Garfield script.
Television
What happens to a property that is optioned for the movies, but for whatever reason doesn't make it? Sometimes it ends up on the small screen, which according to the Hollywood Reporter is the fate of J.Scott Campbell and Andy Hartnell's Danger Girl. Originally in development as a feature film at New Line Cinema, the curvaceous super spy will now ply her trade on the UPN. Paramount Television and UPN have struck a deal to create a Danger Girl TV series, which will be written by Analisa LaBianco. Although the ongoing Danger Girl comic appears to be moribund, the trade paperback, Danger Girl: The Ultimate Collection, is available.
While Danger Girl will be a live action series headed for primetime (albeit on the 'sixth network'), the Canadian-based Mainframe Entertainment is planning a computer-animated 26-episode series based on the Epic comic Alien Legion, created by Carl Potts, Alan Zelenetz and Frank Cirocco.

This will be the first animated adaptation of Alien Legion.

So far Checker Book Publishing has issued two paperback collections of Alien Legion reprints, both of which are currently available.