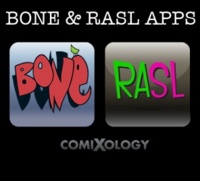 Jeff Smith's Bone and RASL are the latest comic book series to receive their own apps from comiXology. To celebrate their joining the comiXology lineup of dedicated applications for the iPad, iPhone, and iPod, the first issues of each book will be free and subsequent issues will be just 99 cents during an introductory period that will last from July 14th to 19th.
With over six million copies of the Scholastic editions of Bone sold in the U.S. and Canada, the delightful series, which recalls both the works of J.R.R. Tolkien and Carl Barks, is one of the bestselling American graphic novel series of all time. The comiXology editions are in full color like the Scholastic compilations of Smith's self-published Bone comics, which originally appeared in black-and-white.
Smith's RASL is presented in black-and-white, which is appropriate for its hardboiled content. RASL, which combines science fiction and noir elements, follows the adventures of an art thief who makes his getaways by hopping through dimensional barriers.