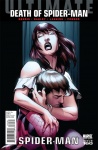 Sales of both periodical comics and graphic novels through Diamond Comic Distributors continued to slide in June when compared with figures from 2010. Despite the "death" of Spider-Man in Ultimate Spider-Man #160 and top three finishes from two "event" books, Marvel's Fear Itself and DC's Flashpoint, sales of periodical comics were down 4.62% from June of 2010, which was certainly not a blockbuster frame since it posted a mere 1% uptick over June of 2009.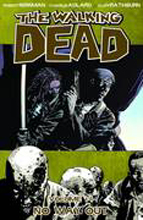 Graphic novel sales in June were down 8.15% from 2010 but that number is a bit more understandable given the fact that June 2010 posted a 21% increase in GN sales over 2009 thanks to a strong lineup led by
Batman Arkham Asylum Madness, Chew
Vol. 2,
Hellboy
Vol. 10,
Naruto
Vol. 48, and boasted no fewer than 40 titles that sold over 2,000 copies through DCD. The graphic novel numbers this June would have looked a lot worse if it hadn't been for the latest volumes of
The Walking Dead
from Image and
Buffy the Vampire Slayer
from Dark Horse.
Combined comic and graphic novel sales were down 5.85% for June, which is slightly better than the full second quarter totals, which were down 6.31% versus Q2 of 2010, so there is some evidence that sales are trending in the right direction as the summer comic "events" kick into high gear leading up to this fall's massive September changes in the DC Comics universe. For Q2 periodical comic sales were down 7.04% vs. 2010, which again demonstrates a slight improvement over the half-year numbers which show a 7.78% decline. Graphic novel sales were off 4.82% in Q2, which again marks an improvement over a year-to-date GN decline of 5.97% vs. 2010.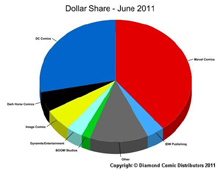 Marvel Comics lost a few points of dollar marketshare, declining from 42.5% in May to 39.32% in June, while DC improved from 26.68% in May to 28.03% in June. Aided by
The Walking Dead
, Image was a solid #3 with 5.85%. Dark Horse was next at #4 with a 5.28% dollar share followed by IDW with 3.76% and Dynamite with 3.49, though the positions of that trio would be exactly the reverse if the chart were based on units instead of dollars.