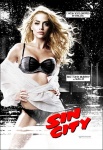 Comic-Con News—At his Quick Draw Panel director Robert Rodriguez had a number of major surprises. He brought up Kevin Eastman and announced that he was planning to make a Heavy Metal movie (David Fincher's option has apparently lapsed) that would probably consist of three separate stories and a framing narrative.
As for Sin City 2, Rodriguez indicated that this is the closest he has been to actually making the film. Frank Miller has written a new chapter, "The Long Bad Night" specifically for the movie. Rodriguez wants to do the movie in 3-D because he has an idea for an effect he has never seen before. But the bottom line appears to be that it's "put up or shut up time" for Sin City 2 with Rodriguez saying "if it's going to happen, it will happen this year."
Then Rodriguez brought up Frank Frazetta's son and announced his ambition to make movies based on Frazetta paintings that were as visually close to the originals as Sin City was to Miller's art. He plans to make Frank Frazetta's Fire and Ice followed by a movie based on Frazetta's famous Deathdealer painting.