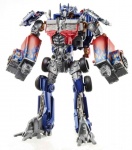 Sales related to Transformers: Dark of the Moon helped drive a 96% increase in the Boys category for Hasbro in Q2, according to the company results reported last week. Beyblade was also mentioned as a source of growth in the category.
Sales in the Games and Puzzles category declined 12% vs. the year ago period.
Magic
was cited as a contributor to the upside in the year ago quarter (see "'
Magic' Helps Hasbro Stem Losses
"); no reason was given for the decline this quarter.
Over-all, Hasbro sales in Q2 were 23% to $908.5 million; profits were up 33% to $58.1 million for the quarter. There was a favorable tax adjustment of $20.5 million in that profit total, as well as $13.1 million in expenses related to the reorganization of it games operations (see "
Hasbro Reorganizes Games
").