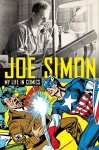 Joe Simon: My Life in Comics HC
Publisher: Titan Books
Release Date: June 2011
Price: $24.95
Author: Joe Simon
Format: 256 pgs.; Hardcover
ISBN: 978-1-8457-6930-7
ICv2 Rating: 4 Stars out of 5
Well timed to coincide with the
Captain America
film release, this is an autobiography of the entire comics industry, not just Joe Simon himself. Because he was there at several of the defining moments of comics, it is a fascinating insight into the beginnings of the Golden Age of comics, as well as some of the later developments in the field. Simon tells his side of the story in the disputes over the rights to characters, and why he and Jack Kirby really left Timely Comics after creating Captain America... as well as the real reason for the change from a traditional shield to a round one.
Joe Simon was part of the DC vs. Fawcett lawsuit. He was there when the Comics Code shut down many of the titles, and when new ones finally arose from the ashes. He worked for one of the few successful competitors to Mad, and for almost every company in the industry at one time or another, creating some of the best [Captain America] and some of the worst [Brother Power, the Geek] characters in the history of comics.
The book has a tell-all aspect about some of the famous comic book lawsuits, but the insights into Jack Kirby's personality and the early days of the comics industry will be a treat to longtime comic book fans. Joe Simon is even more the "grand old man" of comics than Stan Lee is, being the older of the two by several years, and this memoir will be of interest to anyone who has read comics from the Golden and Silver ages.
--
Nick Smith: Librarian Technician, Community Services, for the Pasadena Public Library in California.