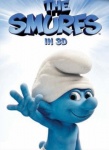 Two very different sorts of comic book-based movies battled it out for box office supremacy this weekend and the result was a photo finish with a winner that won't be known until final figures are released on Monday. Both
The Smurfs
and
Cowboys & Aliens
earned an estimated $36.2 million, but whatever the final outcome, it is clear that the expensive genre-mashing
Cowboys & Aliens
, which cost $163 million and was the projected winner of the weekend, got "smurfed" as it fell well short of expectations, which were basically in the $40 to $45 million range. Still with the hybrid live-action/CGI
Smurf
movie over-performing, the total of the top twelve films was up a solid 20% from last year when
Inception
ruled the box office for a third straight weekend.
Weekend Box Office (Studio Estimates): July 29 - 31, 2011

Film

Weekend Gross

Screens

Avg./

Screen

Total Gross

Wk#

1

Cowboys & Aliens

$36,200,000

3,750

$9,653

$36,200,000

1

1

The Smurfs

$36,200,000

3,395

$10,663

$36,200,000

1

3

Captain America: The First Avenger

$24,905,000

3,715

$6,704

$116,772,000

2

4

Harry Potter and the Deathly Hallows Part 2

$21,925,000

4,145

$5,290

$318,460,000

3

5

Crazy, Stupid, Love.

$19,300,000

3,020

$6,391

$19,300,000

1

6

Friends with Benefits

$9,300,000

2,926

$3,178

$38,200,000

2

7

Horrible Bosses

$7,100,000

2,510

$2,829

$96,202,000

4

8

Transformers: Dark of the Moon

$5,970,000

2,604

$2,293

$337,892,000

5

9

Zookeeper

$4,200,000

2,418

$1,737

$68,731,000

4

10

Cars 2

$2,301,000

1,763

$1,305

$182,070,000

6
It appears that Cowboys & Aliens will have to depend on overseas audiences (which are generally well-disposed towards both westerns and alien invasion movies) to make its money back. It failed to attract young viewers here with a full 75% of its opening weekend crowd over 25 and 39% over 50. Trouble was apparent from the beginning when Cowboys & Aliens drew a paltry $700K from midnight shows, a strong indication that younger viewers, who typically make up the majority of the audience at these late night affairs, were not on board. Of course westerns tend to draw older audiences, which was a risk from the beginning with this project. With only a 44% positive rating from the critics at Rotten Tomatoes and a mediocre "B" CinemaScore from audiences, the domestic prospects for Cowboys & Aliens don't look terribly promising.
Just the opposite is likely true for The Smurfs, which cost $110 million to produce. Family movies that score an initial success tend to have strong "legs," especially in the summer. Audiences also liked The Smurfs a whole lot more than the critics, who gave the film just a 20% positive rating on review aggregator Rotten Tomatoes. In contrast opening weekend crowds gave the film an overall "A-" grade, and the all-important (for this film) 18 and under segment gave the film an "A" CinemaScore. The ubiquitous Neil Patrick Harris plays the live-action lead, while the stellar voice cast for the little blue ones includes Jonathan Winters, George Lopez and Katy Perry. It's perhaps a bit premature, but it does appear that a major revival of the Smurfs property is underway that could lead to strong sales of tie-in merchandise such as comics and toys.
Captain America dropped 61.7% from its opening weekend as it earned an estimated $24.9 million. It had pulled ahead of Thor during the week, but relinquished the "top-drawing superhero movie of the summer" crown this weekend as it fell behind Thor. Cap has earned $116.8 million in 10 days versus Thor's $119.5 million, though it should be noted that more people have seen the Captain America film, which continues to get a much smaller percentage of its total from pricy 3-D showings than Thor did. Also a 62% drop on the second weekend for a major action film is becoming the norm, rather than a sign of impending disaster. Cap's fate will likely be decided overseas. So far (and the rollout has been slow) it has just earned 31% of its total outside of North America, compared with Thor, which ended up garnering nearly 60% of its total overseas.
The final Harry Potter film dropped nearly 54% in its third weekend, but still managed to earn nearly $22 million and bring its total to $318.5 million, which gives it the best domestic cumulative of all the Potter films, though thanks to ticket price inflation, it still remains the least attended. More importantly the film will pass the $1 billion mark worldwide this weekend, which provides more proof of the importance of the overseas markets in this age of sky high budgets and global blockbusters.
This week's other new widely released film, the Steve Carell comedy Crazy, Stupid, Love opened with $19.3 million, which was good enough for 5th place. Though it was hardly a spectacular debut, it was better than it might appear at first glance given the competition from a plethora of comedies in the marketplace with Friends With Benefits (6th place), Horrible Bosses (7th), and Zookeeper (9th) also all in the top ten.
Transformers: Dark of the Moon, which with a North American cumulative of $337.9 million remains the film with the highest domestic total so far in 2011, finished in 8th place and earned an estimated $5.9 million. With a worldwide total of $982.9 billion, the third Transformers movie will be the next film to join the "billion dollar club."

Next weekend Fox attempts to reboot the Planet of the Apes franchise with the prequel Rise of the Planet of the Apes, the first film in franchise history to feature CGI mo-cap apes rather than actors in ape suits.