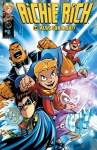 Ape Entertainment will launch two ongoing Richie Rich series this fall: Richie Rich: Rich Rescue and Richie Rich GEMS. Richie Rich GEMS will reprint classic stories originally published by Harvey Comics, recolored to represent well using current printing techniques, along with one new story in each issue by Sid Jacobson and Ernie Colon. Numbering on GEMS will pick up where the Harvey series left off, with #44.
Richie Rich: Rich Rescue will launch in November with #5, picking up where the miniseries left off. Issue #5 will feature a superhero parody with three classic homage covers, one of which will be a retailer incentive.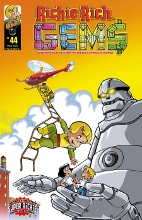 The new Ape Entertainment
Richie Rich
series are part of the company's deal with Classic Media, announced last fall (see "
Richie Rich Comics Return
").