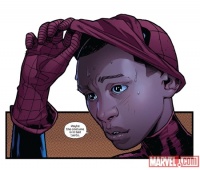 Spoiler Alert—Tomorrow a new era in the
Ultimate Spider-Man
universe begins as
Ultimate Comics Fallout
#4 hits retail and introduces readers to the new
Ultimate Comics Spider-Man.
For the first time ever, someone other than Peter Parker will be Spider-Man. But after the death of Peter Parker in the hugely popular
Ultimate Comics Spider-Man
#160 (see "
Death of Spider-Man Tops 159K
"), someone else has to take up the Spider-Man mantle.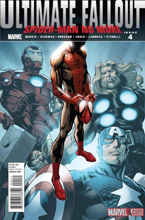 Ultimate Comics Fallout
#4 introduces Miles Morales, a seemingly normal teenager from New York, who will soon discover that with great power comes great responsibility. In his origin story, penned by Brian Michael Bendis and illustrated by Sara Pichelli, readers will discover the secrets behind Miles' amazing abilities and his connection to the original Spider-Man.
Axel Alonso, Marvel's EIC, notes: "When the opportunity arose to create a new Spider-Man, we knew it had to be a character that represents the diversity—in background and experience—of the twenty-first century. Miles is a character who not only follows in the tradition of relatable characters like Peter Parker, but also shows why he's a new, unique kind of Spider-Man—and worthy of that name."
Bendis appears equally intrigued with writing the adventures of the new Spidey: "The chance for the world to join a new Spider-Man as he discovers what that means in this modern world is one of the most challenging and crazy fun opportunities I've had as a writer. The
Ultimate Comics Universe
according to Miles is completely unique. I can't wait to write every issue and I can't wait for people to start reading them."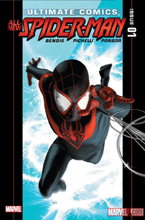 Miles Morales takes over officially in the new
Ultimate Comics Spider-Man
#1, which debuts on September 14th.