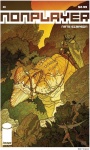 Warner Bros. and
Harry Potter
producer David Heyman have optioned Nate Simpson's Image Comic series
Nonplayer
. Simpson, who worked as a concept artist on video games, both wrote and
drew Nonplayer
, which is a six-issue miniseries that debuted in May
. Nonplayer
, which Andy Khouri called "the next big Image debut" on
Comics Alliance
, features excellent Moebius-like art and a compelling storyline about a brilliant girl who flees the real world for the rich fantasy life of an online role-playing game.
The heroine of Nonplayer, which is set some 50 years in the future, may be a tamale delivery girl in the real world, but she's an elite assassin in the universe of the popular online MMORPG Warriors of Jarvath. When she gets the drop on King Heremoth and slays Queen Fendra, she discovers that there is "something amiss in Jarvath" and it might just extend well beyond the virtual reality of the game and have an impact on the real world.
According to
Variety,
, Warner Bros. is developing the project as a potential "tentpole" with Heyman and Roy Lee (
The Ring, The Departed
) producing.