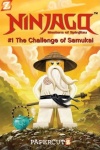 Terry Nantier, the publisher of the Papercutz line of graphic novels, has told ICv2 that pre-orders for the first Ninjago graphic novel, Ninjago #1: The Challenge of Samurkai ($6.99) "are the strongest we've ever seen. We have a strong chance at this point to surpass 100 thousand copies."
The
Ninjago
graphic novels are based on the white hot toy line from Lego (see "
Papercutz to Publish Lego Ninjago GNs
"). Supported by an animated movie that aired on Cartoon Network, the first wave of
Ninjago
toys that hit retail in the U.S. in Q1 sold out almost immediately. A
Ninjago
TV series is in the works, and Papercutz has a second
Ninjago
graphic novel,
Ninjago #2: Mask of the Sensei
set for a release in February of 2012. A total of three
Ninjago
graphic novels, all written by Greg Farshtey and illustrated by Paulo Henrique are slated for release in 2012.
Like Lego's previous proprietary toy property, Bionicles, which was loosely based on Pacific Island culture, Ninjago blends elements of Asian culture and cosmology with exciting adventure stories. Ninjago is the saga of four ninjas who possess the elemental powers of fire, ice, earth, and wind. Mentored by their Master Sensei Wu, they battle the evil skeleton warriors who threaten to take over the Ninjago universe.