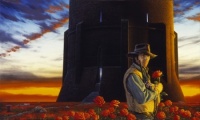 Even though Universal has officially passed on Ron Howard and Brian Grazer's ambitious attempt to adapt Stephen King's
The Dark Tower
saga with a trilogy of films and two bridging TV series (see "
Universal Abandons the Dark Tower
"), the project is far from dead.
The New York Post's
Page Six
reports that Howard is attempting to secure financing for the full project including the TV series.
But even if Howard and Grazer can overcome the wave of movie budget austerity that has swept over Tinseltown and buried such promising projects as Guillermo del Toro's adaptation of H.P. Lovecraft's
At the Mountains of Madness
with Tom Cruise, or Gore Verbinski's
Lone Ranger
movie with Johnny Depp (see "
Disney Torpedoes 'The Lone Ranger
'"), production wouldn't start on
The Dark Tower
until well into 2012 since Howard is busy until then with the Formula 1 movie
Rush
about driver Nicky Lauda. But the good news is that Javier Bardem is still attached to
The Dark Tower
project to play Roland Deschain—let's hope
The Dark Tower
project is as hard to kill as he is.