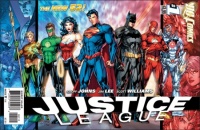 DC Comics has reported that Justice League #1, written by Geoff Johns with art by Jim Lee and Scott Williams, is the bestselling comic of 2011 so far, thanks to an initial print run exceeding 200,000 copies and two subsequent printings. In addition ten of DC's "New 52" titles have print runs over 100,000 and Action Comics #1 is also over 200K thanks to a substantial second printing. All 13 of the "week 2" titles of DC's New 52 are sold out from Diamond and are going back to press for second printings, and the same is true of the 13 "Week 3" books from the "New 52."
Justice League's initial print run of over 200,000 copies (the number includes the digital combo pack and all variant editions, but not digital sales) is the highest initial print run for any DC comic since 2006's Justice League of America #1, which was written by bestselling author Brad Meltzer.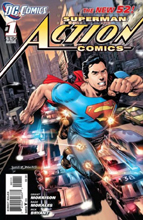 The ten other comics from the "New 52" with initial print runs over 100K include
Action Comics, Batgirl, Batman, Batman and Robin, Batman: The Dark Knight, Detective Comics, Flash, Green Lantern
, and
Superman
.
Digital sales figures have not been announced but the DC Comics App peaked at #4 on the iTunes list of "Top Grossing Apps" during the first week of the "New 52."