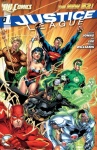 Year-over-year dollar sales of periodical comics through Diamond Comic Distributors were up 15.41% in August, while graphic novel dollar sales rose by 31.17%. These major increases were certainly good news for a comic market that has been depressed, and yet appears poised for a major sales spurt in September, which should reflect the full effect of the launch of DC Comics' "New 52" initiative (see "
Justice League Is Top Comic of 2011 So Far
").
But just as the last few months' numbers were often not quite as bad as they looked at first glance, so this month's apparently mammoth gains, while not exactly fool's gold, are quite a bit less than they appear initially. Due to seasonal variations in comic book sales, year-to-year numbers are preferable to consecutive month-to-month analysis, but year-to-year comparisons can have their problems as well. For one thing August, 2011 contained five ship weeks, but more importantly August, 2010 was a very poor month, with comic sales down 17% from August of 2009, and graphic novels plummeting by 21% (see "
Comics & Graphic Novels Plummet in August
"), so the gains reported by Diamond Comic Distributors have to be put in perspective.
Still the rise in comic sales, which was led by Justice League #1, the vanguard of DC's "New 52," which had sales in the vicinity of 200K (keep checking with ICv2 over the next few days for our estimates of the sales of individual comics in the North American market), has to be seen as a positive. The gains in August reduced the year-to-date deficit for periodical comic dollar sales to 4.6% versus 2010, and brought the YTD graphic novel sales deficit down to 2.35%.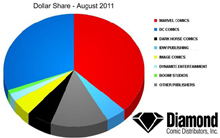 DC Comics with three out of the four top books in August (for the first time DC's
Flashpoint
topped Marvel's
Fear Itself
) increased its dollar marketshare slightly from 30.55% in July to 30.72% in August, while Marvel's share fell from 39.43% in July to 37.34% in August. Next month's marketshare numbers should be very interesting thanks to the presumed impact of the "New 52." Dark Horse Comics, which had the #1 graphic novel in August,
Serenity Better Days and Other Stories
, took a solid hold on third place with a 5.78% dollar share followed by IDW Publishing with 4.79%, Image Comics with 4.67%, Dynamite Entertainment with 2.23, and BOOM! Studios with 1.24%.