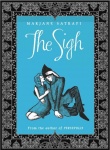 Archaia Entertainment will publish The Sigh, an illustrated book by Marjane Satrapi, in November. Satrapi, of course, is best known for the bestselling graphic novel Persepolis (which spawned an animated film, which she co-directed). The Sigh, which was first released in French and Spanish, tells the story of a mysterious being who hears the sigh of the daughter of a rich merchant and helps, but returns to extract a price.
The $10.95 6"x 8" hardcover contains 56 pages of text and full color illos.
Archaia says that The Sigh is the first of a new wave of foreign titles it plans to offer in North America over the next few months.