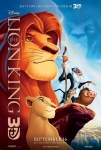 Disney's retread 3-D version of
The Lion King
easily topped the weekend box office, earning more than the combined total of three other new widely-released films. Strong performances from some holdovers, notably
Contagion, The Help, The Debt
, and
Rise of the Planet of the Apes
kept the box office from slipping too far as the top 10 films' total gross was just 4% below the same weekend last year when Ben Affleck's
The Town
debuted with $23.8 million.
With a dearth of family movie options Disney's
The Lion King
, which was already the highest-grossing hand-animated film of all time, easily triumphed in spite of the fact that the Simba epic is one of the all time bestselling DVDs of all time, having racked up home entertainment sales and rentals totaling $1.5 billion. In spite of a rough road for 3-D releases recently,
The Lion King
managed to earn 92% of its revenue from the higher-priced extra-dimensional showings. While the strong debut of
The Lion King
3-D doesn't guarantee success for other high profile 3-D retreads such as the upcoming (January)
Star Wars
release, it certainly will make it easier for theater owners tomake the decision to free up screens for future high profile re-processed 3-D releases.
Weekend Box Office (Studio Estimates): September 16 - 18, 2011

Film

Weekend Gross

Screens

Avg./

Screen

Total Gross

Wk#

1

The Lion King (in 3D)

$29,300,000

2,330

$12,575

$29,300,000

1

2

Contagion

$14,480,000

3,222

$4,494

$44,192,000

2

3

Drive

$11,019,000

2,886

$3,818

$11,019,000

1

4

The Help

$6,438,000

3,014

$2,136

$147,365,000

6

5

Straw Dogs

$5,000,000

2,408

$2,076

$5,000,000

1

6

I Don't Know How She Does It

$4,502,000

2,476

$1,818

$4,502,000

1

7

The Debt

$2,946,000

1,831

$1,609

$26,544,000

3

8

Warrior

$2,770,000

1,883

$1,471

$9,912,000

2

9

Rise of the Planet of the Apes

$2,625,000

2,340

$1,122

$171,618,000

7

10

Colombiana

$2,300,000

1,933

$1,190

$33,347,000

4
The Lion King attracted an audience that was 56% female and nearly 60% under 25. The film managed to post a solid $12,575 per theater average. When it first debuted back in 1994, The Lion King earned nearly $41 million during its opening weekend in a year in which the average ticket price was just $4.17. The Lion King's box office total of $328.5 million from its initial run is well over $600 million if adjusted for ticket price inflation.
Last weekend's top dog Contagion dipped just 35% as it earned an estimated $14.5 million, giving it a 10-day total of $44.2 million. The adult thriller, which cost about $60 million to produce looks to follow the pattern of last year's The Town, which would give it a domestic total in the $80 million range.
The 'R' rated Drive, which earned a spectacular 92% positive rating from the critics on Rotten Tomatoes as well as "Best Director" award at Cannes for Danish helmer Nicholas Winding Refn, didn't find favor with audiences, which gave it a nasty "C-" CinemaScore. Part of the problem is the attempt to market the slower-paced Euro-style thriller as an "action" picture. Drive attracted an older audience (74% over 25), which in theory should be more likely to respond to this different sort of thriller, but so far at least the audience response to Drive has been underwhelming to say the least.
The other two new films, a remake of Sam Peckinpah's Straw Dogs, which finished fifth with an estimated $5 million, and the Sarah Jessica Parker vehicle I Don't Know How She Does It fared even worse. Straw Dogs, which lacks the primal fire of Peckinpah's feral 1971 exercise in the cinema of behaviorism, attracted an audience that was 60% male and 61% over 25, and they gave the film a poor "C" CinemaScore.
As might be expected I Don't Know How She Does It attracted an audience that was 74% female. Unfortunately the film only averaged a rather pitiful $1808 per theater, and it received a mediocre "B-" CinemaScore. It has virtually no chance of making back its $25 million cost.
Meanwhile Rise of Planet of the Apes remained in the Top 10 for the 7th straight week and brought its domestic total to $171.6 million.