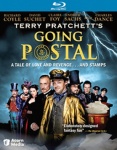 After a couple of weeks featuring summer blockbuster releases, this week's home entertainment offerings might seem a little tame, but they do include the best new fantasy release of 2011 so far, a brilliant version of Terry Prachett's Discworld novel Going Postal, which headlines a gaggle of TV comedy DVDs. Also out this week is the surprise comedy movie hit of the summer, Bridesmaids, along with a handful of interesting new anime offerings.
TV on DVD
The top release of the week, especially for fantasy fans, is Terry Prachett's
Going Postal
(Acorn Media, 252 min. $39.99, BD $39.99). This is the third "made for TV" miniseries produced by the Mob Film Company based on the
Discworld
novels of Terry Prachett. This expansive 252-minute production is an absolutely stunning version of the humorous saga set in the
Discworld
metropolis of Ankh Morpork where the postal service has been replaced by a faster semaphore-like system known as the "Clacks" (in a manner that reflects and satirizes the current postal service's Internet-caused troubles). Enter con-man Moist von Lipwig (Richard Coyle) who is sentenced to revive the post office, an effort that is repeatedly sabotaged by Reacher Gilt (David Suchet), who owns the Clacks system. Prachett's saga of redemption in which the oblivious Lipwig is apprised of the effects of his crimes through a series of dreams that are rendered as silent movies, has a definite Dickensian aura and a wonderfully realized steampunk quasi-Victorian setting. The film abounds in humor of all kinds including one scene in a restaurant where the beautiful heroine Adora Belle Dearheart deftly parodies Clint Eastwood in
Dirty Harry
. The miniseries format allows the filmmakers to fit in nearly ever twist and turn of Prachett's clever novel, which is treated with great respect and fidelity. The author himself provides an introduction that fans are certain to enjoy. Not only are Prachett's fantasy novels popular on their own, they have been adapted into comics and graphic novels, and even board games (see "
Details on Mayfair's Discworld Board Game
").
There are a number of fairly highly rated series out on DVD this week including last year's top rookie show Hawaii Five-0: The First Season (Paramount $64.99), one of the most popular new sitcoms—and the only one that features plus-size characters--Mike & Molly: The Complete First Season (Warner Bros., 500 min., $44.98, BD $49.98), along with the Emmy Award-winning single-camera ABC comedy series Modern Family (Fox, 528 min., $49.98, $59.98), and the delightful mystery comedy drama Castle: The Complete Third Season (Disney, 1032 min., $45.99) starring Nathan Fillion as a mystery writer suffering from writer's block, who gets involved in police investigations as he pursues a new series based on a female detective that he is shadowing.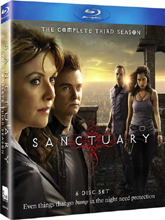 Another major release with serious geek appeal is
Sanctuary: The Complete 3rd Season
(E1 Entertainment, 880 min., $59.98, BD $64.98). This Canadian science fiction/fantasy series has become a staple of the SyFy network. Amanda Tapping plays the remarkably well-preserved 160 year-old Dr. Helen Magnus, the leader of Sanctuary, an organization that deals with creatures with extraordinary powers known as Abnormals. Tapping directed one episode of
Season 3
as did series creator Damian Kindler. The show is shot entirely on green screen and the special effects, including exotic worldwide locations, various creatures, and the team's modern weaponry are all rendered quite effectively. In fact the visual quality is good enough that it would make sense for fans of the series to spend the extra $5 for the six-disc Blu-ray set.
Other continuing series out on DVD in time for the fall premiere season include Body of Proof: The Complete 1st Season (Disney, 559 min., $29.99), which stars Dana Delany as a medical examiner, Happy Endings: The Complete First Season (Sony, $35.99), which collects the first 13 episodes of the single camera ABC sitcom about a group of friends in Chicago disrupted by divorce, How to Make It in America (HBO, $39.98, BD $49.98), the cable series about two "twentysomethings" striving to make in New York's high pressure fashion world, the popular CBS police procedural series The Mentalist: The Complete Third Season (Warner Bros. $59.98), and Raising Hope: The Complete First Season (Fox, $39.98), which includes all 22 episodes of the first season of the "white trash" sitcom that both celebrates and lampoons its working class characters.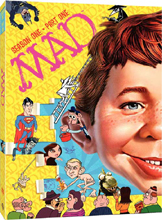 Altogether more interesting is
Mad: Season 1, Part 1
(Warner Bros., 146 min., $19.98), the animated sketch comedy series created by Kevin Shinick and based on the sort of parodies and satire that have made
Mad Magazine
, the beloved apotheosis of adolescent humor that it is. Those who enjoy
Mad,
should definitely consider buying or renting this innovative series that airs on the Cartoon Network.
Other offerings of interest include 10 Things I Hate About You: Season One, Volume 2 (Shout Factory, $21.60), which includes the final ten episodes of the ABC Family series about two very different teenage sisters, The Dick Van Dyke Show 50th Anniversary: Fan Favorites (Image, 500 min., $24.98), which includes 20 episodes of the classic sitcom, the short-lived Law and Order: Los Angeles The Complete Series (Universal, 880 min., $59.98), the Rock Hudson-starring McMillan and Wife: The Complete Season 6 (First Look, 450 min., $39.98), and the original Hawaii Five-0: The 11th Season (Paradox Entertainment, 900 min., $49.99).
Anime
The top anime release this week is The Melancholy of Haruhi Suzumiya: The Disappearance of Haruhi Suzumiya (Bandai, "13+," 164 min., $29.95, BD $39.98), the 2010 movie produced by Kyoto Animation and based on the fourth light novel in the Haruhi Suzumiya series written by Naguar Tanigawa. This latest entry in the cult hit series was a major smash in Japan where it won Best Theatrical Film Award at the 2010 Animation Kobe Awards. Almost 80,000 copies of the Blu-ray disc of The Disappearance of Haruhi Suzumiya were sold during its first week of release in Japan.
Also new on DVD is Pokemon Movie 13: Zoroark—Master of Illusion (Viz Media, "All Ages," 95 min., $19.97), which was released in Japan on July 10th, 2010. This movie aired on the Cartoon Network on February 5th, 2011 where it earned solid ratings. The way in which the Pokemon property has maintained it popularity with its young target demographic is really quite amazing, but the consistent quality of the Pokemon anime TV series and movie productions certainly has a lot to do with it.
Another new release is the Amagami SS DVD Collection 1 (Sentai Filmworks, 13+, 300 min. $49.98), which includes the first 13 episodes of a TV anime produced by AIC that is based on a popular dating simulation game and aired in Japan in 2010.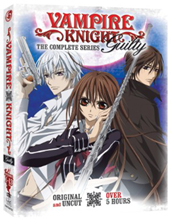 Thanks to a highly original take on the subject of vampirism, Matsuri Hino's
Vampire Knight
is the most popular
shojo
manga series in North America. It inspired two 13-episode anime series produced by Studio Deen. The second series,
Vampire Knight Guilty Complete Series
(Viz Media, "16+," 312 min., $49.95) is now available in a box set edition.
Another of this week's strong lineup of interesting titles is Katanagatori DVD/Blu-Ray Box Set 2 Premium Edtion (NIS, "13+," 308 min., $69.99), which includes the final six episodes of the 2010 anime series produced by White Fox based on the Chanbara-themed novels created by Nisio Isin. The saga deals with Yasuri Shichika, a swordsman who fights without a sword, and Togame, an ambitious strategist who is trying to collect twelve legendary swords.
One of the more controversial releases this week is Rurouni Kenshin OVA: Reflection Blu-ray Limited Edition (Aniplex of America, "17+," 95 min. $69.95). It includes the final two Kenshin OVAs produced by Studio Deen, which features some of the fluid animation ever created in Japan. However there aren't a lot of fight scenes, and Kenshin creator Nobuhiro Watsuki, who did not write the script, was unhappy with the downbeat direction of the OVAs (he felt Kenshin had suffered so much that he deserved a better fate) and declared that they were not canonical. Still Kenshin fans will want to check this disc out—though it is extremely pricy, even for a Blu-ray.
Also out this week is Shin Chan Season 3 Part 2 (Funimation, "17+," 325 min., $39.98), which includes episodes 66-78 of the irreverent series that features a child protagonist (who is like Dennis the Menace on steroids), but is full of quirky adult content and references to various bodily functions.
Theatrical Releases
After a couple of blockbuster-filled weeks comes something of respite, though fans of "R-rated" comedies will cheer the release of Bridesmaids (Universal, "R," $29.98, BD $34.98), a raunchy comedy starring the often brilliant Kristen Wiig that became the summer's surprise comedy hit. Produced for just over $30 million, Bridesmaids has earned over $283 million worldwide. There are plenty of reasons for this success, starting with an outstanding cast. The characters may be stereotypes, but the actresses involved bring them to life with tons of verve—and this movie, which was directed by Paul Feig, is just flat-out funny, which is the ultimate test of any comedy.
It's a poor week for other genre movies however as exemplified by the release of Set Up (Lionsgate, "R," $19.98, BD $24.98), a poorly directed caper film that wastes the talents of all concerned including Bruce Willis, who has what amounts to a 5-minute cameo. Zoom-happy director Mike Gunther presides over this mess, which is enlivened only by a zany bit from mixed martial artist Randy Couture as Willis' hired muscle.
Another misfire is Son of Morning (E1 Entertainment, "Not Rated," $24.98), a direct-to-DVD satire about a South Florida Messiah that features a few good scenes, especially one in which the supposed messiah's former paramour downplays his lovemaking skills in a TV interview saying "Unfortunately, even God doesn't know how to please a woman." Unfortunately jokes that work and solid performances become increasingly hard to find in this disjointed lackluster film in spite of the presence of Danny Glover, Steven Weber, Heather Graham and other talented actors. Yaniz Raz both wrote and directed the movie. He should probably stick to writing since the staging, editing, and pacing of Son of Morning are all lacking.
Classics on DVD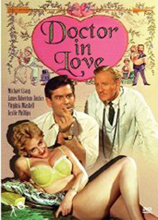 Comedy of a much more genteel and professional sort is the hallmark of the "Doctor" series of British comedies, four of which starred Dirk Bogarde. The series began in 1954 with
Doctor in the House
and eventually encompassed seven films in all, all of which are now available on DVD in beautifully restored versions that are sharp with true color and excellent contrast throughout.
Doctor in the House
(VCI, Unrated $14.99), which finds the charming Bogarde and friends in medical school is perhaps the best of the lot (Leonard Maltin gives the movie 3.5 stars out of 4), but the films, which were all directed by Ralph Thomas, were fairly consistent in quality, especially the four that starred Bogarde. They were all shot in color and reflected the changes in Britain, which was finally emerging from the rationing and deprivation of the postwar era and heading for the cultural explosion of the 1960s.
Doctor in the House
was the most popular film in the U.K. in 1954.
Doctor at Sea
(VCI, $14.99) from 1955 features the sexy Brigitte Bardot in her first English language movie (her role here is less revealing than her French films, but she still smolders big time).
Doctor at Large
(VCI, $14.99), which was made in 1957, finds Bogarde practicing medicine and stepping on the toes of important patients, and of course falling in love.
Doctor in Distress
(VCI, $14.99) from 1963 is Bogarde's final "Doctor" film. It features the delectable Samantha Egger and is perhaps Bogarde's sexiest entry in the series.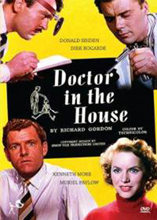 Bogarde wasn't in
Doctor in Love
(VCI, $14.99) from 1960, which focused on James Robertson Justice as Lancelot Spratt, the irascible chief surgeon, who tormented the medical students in
Doctor in the House
, and then became a fixture in the series.
Doctor in Clover
(VCI $14.99) from 1966, which was also known as
Carnaby, M.D
., captured more of the spirit of the swinging London of the 1960s. It found Lancelot back in the familiar role of trying to turn a intern who appears only interested in nurses into a decent doctor.
Doctor in Trouble
(VCI, $14.99) from 1970 is the final film in the series and the weakest. It stars Leslie Phillips and is the sexiest entry in the series—contemporary critics referred to it rather paradoxically as "innocently smutty."