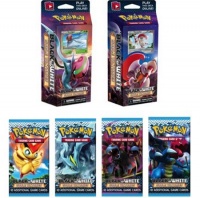 Nintendo has announced the November release of the third expansion in the Pokemon TCG: Black & White series, Pokemon TCG: Black & White—Noble Victories. Noble Victories breaks new ground with the first "Restored Pokemon" card, which can be put into play only with the effects of certain item cards, and "N," the Pokemon TCG's first "Rare Ultra Trainer Card".
Noble Victories includes 100 Pokemon from the Unova region, including more than 50 never-before-seen Pokemon, as well as the TCG debut of "Victini," the "Victory Pokemon." The Noble Victories Theme Decks (MSRP $11.99) will debut on November 2nd, while the Noble Victories Booster Packs (MSRP $3.99). Each new theme deck and booster pack includes an in-pack code that unlocks virtual cards for play in the Pokemon Trading Card Game Online.
Noble Victories also includes full art cards of the Legendary Trio of Unova—Cobalion, Terrakion, and Virizion. The boosters feature powerful Pokemon such as Kyurem, Druddigon, and Hydreigon for the first time.