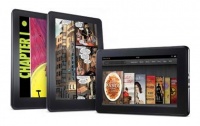 Amazon is launching its color Kindle, the Kindle Fire, with 100 exclusive DC graphic novels, including the bestselling graphic novel of all time, Watchmen, which has never before been available digitally. Others include Batman: Arkham City, Superman: Earth One, and Green Lantern: Secret Origin. The Kindle Fire will sell for only $199, and will not only offer books, magazines, newspapers, but also 100,000 movies and TV shows from Amazon Instant Video, Android Apps, such as comiXology, and a new Web browser, Amazon Silk, that uses Amazon's cloud to improve performance.
Other Kindles announced Wednesday include a new low end Kindle for $79; the new Kindle Touch, with a touch screen, for $99; and the new Kindle Touch 3G for $149.
The color Kindle was already poised to kick off a massive fight over digital media delivery (see "
Amazon Plans Tablet
"), and with the aggressive pricing Amazon has chosen for the Fire, the market for digital content is going to explode this holiday season.