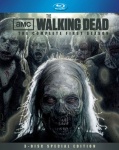 The first season of AMC's The Walking Dead tops a stellar list of home entertainment offerings that includes one of the best drama series of the past decade, great documentaries from both the big and small screens, a bunch of cult-friendly releases including one of the best-reviewed action pics of the summer, some huge Blu-ray debuts, and a wry, sardonic comedy gem from Richard Ayoade, the hilarious Maurice Moss of The IT Crowd.
TV on DVD
There is a wealth of great offerings in the TV category starting with The Walking Dead: The Complete 1st Season Special Edition (Starz/Anchor Bay, 292 min., $49.97, BD $59.97), a 3-disc set, which includes all six episodes of the first season adaptation of Robert Kirkman's tour de force zombie comic from Image. Produced by Frank Darabont (The Shawshank Redemption), The Walking Dead set all sorts of basic cable ratings records. The new series kicks off on October 16th and there is no better way to get psyched for the new 13-episode season than to watch the gripping first season, which sets up the action as Sheriff Rick Grimes awakes in a hospital to find himself in the midst of a zombie apocalypse. He leads his intrepid band of survivors to the CDC in Atlanta, but finds no refuge. While it may seem like a lot to pay for a 6-episode series, this set makes up for it with a plethora of fascinating extras. Also with its feature film-style visuals, this is one series that is worth getting on Blu-ray, though both the DVD and BD editions have those great extras including a B&W version of the pilot, audio commentaries on all six episodes, plus features on "The Art of Making Zombies," "The VFX of The Walking Dead," "A Sneak Peek with Robert Kirkman," "On the Set with Robert Kirkman," the highly useful (for Halloween) "Zombie Make-Up Tips," and much more.
Another sterling release is
Friday Night Lights: The Complete Series
(Universal, 3200 min., $129.99), which includes all 76 episodes of the brilliantly acted and written series on 19 discs. Viewers don't have to like football to enjoy this superior TV drama that was shot entirely on location in Texas.
FNL
has an authenticity of place and emotion that just can't be faked. Kyle Chandler gives the performance of his career in the complex and multi-layered role of Eric Taylor, but the series also introduced a number of young actors who have gone on to make names for themselves including Taylor Kitsch (
John Carter
) and Adrianne Palicki.
There are also two series due out that represent the very best in their subcategories of "Historical" and "Nature" documentaries. Ken Burns' Prohibition (PBS, 360 min., $39.99, BD $44.99) may represent his most compelling work yet. The 3-part, six hour series mines one of the most fascinating 13- year periods in American history the boom and bust cycle of the roaring twenties and the Great Crash, an era replete with colorful characters and complex moral issues most of which are examined in some depth in this remarkable series, which traces the roots of prohibition in the 19th Century and its effects in the 20th.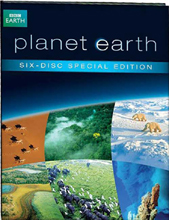 One of the best "Nature" documentaries of all time, the BBC Series
Planet Earth
is out in two new editions,
Planet Earth Complete Collection Limited Edition
(BBC, 550 min., $79.99, BD $99.98), which comes in spectacular "globe" package, and
Planet Earth Complete Collection Special Edition
(BBC, 550 Min., $59.98, BD $79.98), which is packaged in an easier-to-store conventional box set format. Obviously Blu-ray is the way to go to get the most out of this superbly photographed (in high-def) series, which won four Emmys. This new edition of the bestselling factual series of all time contains numerous new bonus features including an extensive sneak peek at the new "Frozen Planet" series that examines life in the Earth's Arctic and Antarctic regions, 110 minutes of behind-the-scenes footage, and new commentaries on every episode.
Live action series with real cult appeal include The Bionic Woman: Season 3 (Universal, 880 min., $39.98), which stars Lindsay Wagner as the super-powered heroine, the campy double-feature Elvira's Movie Macabre Lady Frankenstein/Jesse James Meets Frankenstein Daughter (E1 Entertainment, 182 min., $14.98), and the innovative HBO detective series Bored to Death: The Complete 2nd Season (HBO, 326 min., $39.98, BD $49.99). Fans of vintage TV whodunits will really enjoy Perry Mason: The 6th Season, Vol.1 (Paramount, 710 min., $54.99), featuring Raymond Burr as the infallible advocate, who never "really" lost a case.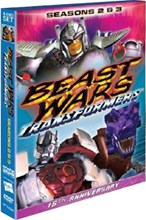 There are also plenty of animated offerings this week including
Transformers: Beast Wars Season 2&3
(Shout Factory, 600 min., $29.93), a very reasonably-priced collection of the CGI-animated
Transformers
series, the side-splitting sampler
Beavis and Butt-head: Mike Judge's Most Wanted
(MTV, 115 min., $14.98), which includes an exclusive sneak peek of the new revived
Beavis and Butt-head
series,
The Tarzan/Lone Ranger/Zorro Adventure Hour: The Lone Ranger
(Vivendi, 154 min., $6.95), which features the adventures of the masked crimefighter from the1980s cartoon series produced by Filmation,
The Bugs Bunny/Looney Tunes Comedy Hour: Looney Tunes Super Stars Roadrunner & Wile E. Coyote—Supergenious Hijinks
(Warner Bros, $19.98), which contains 15 Roadrunner cartoons,
Aaahh!!! Real Monsters
(Shout Factory, 300 min., $19.93), which includes the entire first season of the series that was nominated for a Daytime Emmy,
Dinky Dog: The Complete Series
(First Look, 360 min., $15.98), Hanna-Barbera's first and only cartoon series produced in Australia,
The Mighty Hercules
(Vivendi, 110 min., $6.95), a best-of collection of the 1960s cartoon series
, The PJs Season 3
(Lionsgate, 432 min., $19.98), the urban-themed stop-motion series created by Eddie Murphy, and the always delightful
Tom and Jerry: Fur Flying Adventures Vol.3
(Warner Bros. $14.98), which includes 14 classic
Tom and Jerry
cartoons.
Continuing series out this week include the sitcom According to Jim: Season 5 (Lionsgate, 658 min., $29.98), Boy Meets World: Season 7 (Lionsgate, 552 min., $29.98), the final season of the once-popular sitcom in which Cory and Topanga finally tie the knot, In Treatment: The Complete 3rd Season (HBO, $59.98), the psychiatry-themed series starring Gabriel Byrne, The Jackie Gleason Show: The Complete Restored Series (MPI, 3000 min., $129.99), a must for fans of TV's Golden Age, the fantasy football saga The League: Season 2 (Fox, $29.98, BD $34.98), Lie to Me: The Complete Third and Final Season (Fox, 572 min., $49.98), the Tyler Perry produced and created Meet the Browns Season Two: Episodes 21-40, and Melissa & Joey: Season 1, Part 2 (Shout Factory, 270 min., $24.97).
The only UK dramatic release this week is the vintage historical drama Upstairs Downstairs: Season Five (Acorn Media, 818 min., $49.99). Upstairs Downstairs was a huge hit on PBS and created the template for the prestige historical drama series.
Theatrical Movies
The likely bestseller among this week's releases is Fast Five (Universal, "PG-13," $29.98, BD/Combo $34.98), which earned a surprising 78% positive rating from the critics surveyed by review aggregator Rotten Tomatoes. Director Justin Lin managed to revive the franchise in its fifth film by shifting the focus of series from street racing to a caper film with racing elements. Lin was aided by the return of the principals from the highly successful first film in the series, Vin Diesel, Paul Walker, and Jordana Brewster, and by the addition of Dwayne "The Rock" Johnson. The stunts may defy the laws of physics, but Lin makes everything fly by so fast that action movie buffs won't care. Fast Five is not for everyone, but action movie fans will not be disappointed.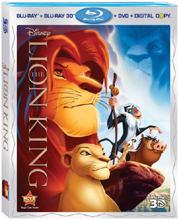 Those who enjoy clever art house comedies could do a lot worse than the enigmatically titled
Submarine
(Anchor Bay, "R," 98 min., $29.98, BD $39.99). Written and directed by Richard Ayoade, who plays Maurice Moss in the brilliant Britcom
The IT Crowd
,
Submarine
is a funny and surprising teen comedy where the characters don't all look like they just stepped out of ads for Clearasil. The feckless teen protagonist of
Submarine
schemes to reconcile his parents whose marriage is on the verge of breaking up, while simultaneous hoping to lose his virginity to his quirky girlfriend who is more concerned with starting fires than sparking romance. Clever and sardonic,
Submarine
is both funny and moving, while walking a narrative tightrope as it derives humor from its teen characters without patronizing them.
Two theatrically released documentaries are also out this week. Buck (MPI, "PG," 89 min., $24.98) focuses on the activities of Buck Brannaman, a real cowboy "horse whisperer," who survived an abusive childhood to become a champion rider who discovered an innate connection with horses that allows him to make a living by traveling the country and dealing with supposedly "difficult animals." The title of Disneynature: African Cats (Disney, "G," BD $39.99) says it all. This is a "family friendly" animal feature with great nature photography that has been shaped in the editing process to produce a Disney narrative that is actually the first cousin (narratively speaking) to Disney's cartoon feature, The Lion King, which debuts on Blu-ray this week (see "Classics on Blu-ray").
Anime
There are only a few anime releases this week including Glass Maiden (Maiden Japan, "14+," 300 min. $49.98), which includes all 12 episodes of the anime series produced by Studio Fantasia that aired in Japan in 2008. This mystery/science fiction drama focuses on the efforts of an unlikely detective agency charged with delivering a strange cargo—a girl who has been bioengineered to become a ferocious military weapon.
Perhaps the most interesting new release of the week is Legend of the Millennium Dragon (Sony, "12+," 93 min., DVD/BD combo $45.99). This anime feature film, which focuses on a 12-year-old boy who is transported back 1200 years to do battle against monsters that are disrupting a peaceful, harmonious world, was produced by Studio Pierrot, the studio best known for the Naruto and Naruto Shippuden anime series. Lots of action and a stirring J-Pop soundtrack featuring "Starlight" by Miho Fukuhara make this an interesting release that targets the Naruto demographic and should also be of interest to the young fans of Avatar: The Last Airbender.
Re-priced releases out this week include La Corda d'Oro—Primo Passo: Complete Collection (Sentai Filmworks, "13+," 650 min., $69.98) includes all 26-episodes of the musical/romance anime based on the popular shojo manga series by Yuki Kure, which was previously released in two 13-episode installments that were priced at $49.98 each. The Negima !? Season 2 Complete Collection (Funimation, "17+," 650 min., $29.95) is a good example of a second more deeply discounted level of price reductions in Funimation's bargain-priced S.A.V.E. editions.
Classics on Blu-ray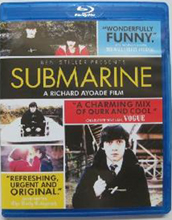 Disney has already earned more than $1.5 billion on various home entertainment version of
The Lion King
, which will receive its first hi-def release on Tuesday on both Blu-ray and Blu-ray 3-D.
The Lion King DVD/BD Combo
(Disney, "G," BD $39.99, 3-D BD $49.99) recently received a theatrical release in the re-processed 3-D mode and topped the box office for two weeks in row, while earning an additional $80 million in theaters. Expect it to do even better on Blu-ray. Though it should be noted that in spite of its "G" rating and catchy songs
The Lion King
, because of its violent storyline, is not suitable for all young children.
Disney is also releasing the high-def version of another 1990s animated hit, Beauty and the Beast (Disney, "G," BD/Combo $39.99, 3-D BD/Combo $49.99) that has also been re-processed in 3-D (though the 3-D version has not yet received a theatrical release).
Also due on BD this week is Quentin Tarantino's breakthrough 1990s hit Pulp Fiction (Lionsgate, "R," 154 min., $19.99), which is now available in a great hi-def transfer at a very reasonable price. They've got your "Royale with cheese" right here. Nuff said!