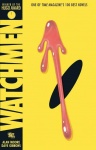 ICv2 has confirmed that Barnes & Noble, the world's largest bookseller, is removing 100 of DC's bestselling backlist titles from its 705 retail stores in the U.S. The action is being taken as a result of DC's exclusive deal with Amazon on those titles for the Kindle Fire (see "
Watchmen on Kindle
"), making them unavailable for Barnes and Noble's Nook e-reader. Amazon priced at least some of those titles at $9.99, or roughly half the price of the print editions (see "
Kindle Launches Graphic Novel Price War
"). It appears that the action, at least for now, applies only to the brick and mortar stores; BN.com is still offering
Watchmen
(at $10.87) as of this writing.
Barnes & Noble appears to be making an example of DC for other publishers thinking of giving Amazon exclusive content for the Kindle, and is willing to lose some sales to make its point clear.
We haven't heard what the term of the DC exclusive with the Kindle is, but there will be a window of at least some months, including the all-important holiday season, with vastly reduced availability of those titles in chain bookstores. This will offer an opportunity for all of B&N's competitors, and will undoubtedly hurt DC's graphic novel sales through the end of the year.
As we wrote when this started, "DC's deal with Amazon for the Kindle Fire is a potentially disruptive game-changer that could have far-reaching impacts on the market for physical and digital graphic novels in the future."
For retailers interested in making sure they have the books that the Barnes & Noble stores will not, here's the list of titles that DC made exclusive for the Kindle:
All Star Superman
All Star Batman & Robin, The Boy Wonder, Vol. 1
American Vampire Vol. 1
Batman and Robin, Vol. 1: Batman Reborn
Batman and Robin, Vol. 2: Batman vs. Robin
Batman and Robin, Vol. 3: Batman Must Die!
Batman and Son
Batman: Arkham Asylum
Batman: Arkham City
Batman: Hush
Batman: R.I.P.
Batman: The Black Glove
Batman: The Dark Knight Returns
Batman: The Long Halloween
Batman: The Return of Bruce Wayne
Batman: Year One
Blackest Night
Blackest Night: Black Lantern Corps Vol. 1
Blackest Night: Black Lantern Corps Vol. 2
Blackest Night: Rise of the Black Lanterns
Blackest Night: Tales of the Corps
Brightest Day, Vol. 1
Brightest Day, Vol. 2
Brightest Day, Vol. 3
Daytripper
Fables Vol. 1: Legends in Exile
Fables Vol. 2: Animal Farm
Fables Vol. 3: Storybook Love
Fables Vol. 4: March of the Wooden Soldiers
Fables Vol. 5: The Mean Seasons
Fables Vol. 6: Homeland
Fables Vol. 7: Arabian Nights (and Days)
Fables Vol. 8: Wolves
Fables Vol. 10: The Good Prince
Fables Vol. 11: War and Pieces
Fables Vol. 12: The Dark Ages
Fables Vol. 13: The Great Fables Crossover
Fables Vol. 14: Witches
Fables Vol. 15: Rose Red
Green Lantern Vol. 3: Wanted Hal Jordan
Green Lantern: Agent Orange
Green Lantern: Blackest Night
Green Lantern: Rage of the Red Lanterns
Green Lantern: Rebirth
Green Lantern: Secret Origin
Green Lantern: The Sinestro Corps War
How to Understand Israel in 60 Days or Less
Identity Crisis
Kingdom Come
MAD About Oscars
MAD About Superheroes
MAD About Superheroes
MAD About the 50′s
MAD About the 60′s
Marzi
Planetary Vol. 1: All Over the World and Other Stories
Planetary Vol. 2: The Fourth Man
Planetary Vol. 3: Leaving the 20th Century
Planetary Vol. 4: Spacetime Archaeology
Superman for All Seasons
Superman: Earth One
The Dark Knight Strikes Again
The Flash: Rebirth
The Joker
The League of Extraordinary Gentlemen (Vol. 1)*
The League of Extraordinary Gentlemen (Vol. 2 )*
The Sandman Vol. 1: Preludes & Nocturnes
The Sandman Vol. 2: The Doll's House
The Sandman Vol. 3: Dream Country
The Sandman Vol. 4: Season of Mists
The Sandman Vol. 5: A Game of You
The Sandman Vol. 6: Fables and Reflections
The Sandman Vol. 7: Brief Lives
The Sandman Vol. 8: World's End
The Sandman Vol. 9: The Kindly Ones
The Sandman Vol. 10: The Wake
The Sandman: Dream Hunters
The Sandman: Dream Hunters (P. Craig Russell)
The Sandman: Endless Nights
The Unwritten Vol. 1: Tommy Taylor and the Bogus Identity
The Unwritten Vol. 2: Inside Man
V for Vendetta
Watchmen
We3
Y: The Last Man, Vol. 1: Unmanned
Y: The Last Man, Vol. 10: Whys and Wherefores
Y: The Last Man, Vol. 2: Cycles
Y: The Last Man, Vol. 3: One Small Step
Y: The Last Man, Vol. 4: Safeword
Y: The Last Man, Vol. 5: Ring of Truth
Y: The Last Man, Vol. 6: Girl on Girl
Y: The Last Man, Vol. 7: Paper Dolls
Y: The Last Man, Vol. 8: Kimono Dragons
Y: The Last Man, Vol. 9: Motherland