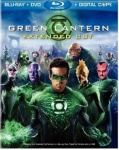 While the Green Lantern movie was easily the least successful superhero film of the summer of 2011, it has potential in the home entertainment sphere, and there is a wide variety of other offerings this week rangin from Terrance Malick's philosophically-dense The Tree of Life to the raunchy fun of Horrible Bosses, a spectacular Doctor Who Gift Set, a classic dark comedy from the U.K., and a whole bunch of animated TV series.
Theatrical Movies
Warner Brothers' Green Lantern (WB, "PG-13," $28.98, BD Combo $35.99, 3-D BD $44.95) may have bombed at the box office, but the hugely expensive film, which cost in the neighborhood of $300 million and earned just $220 million worldwide, should do fairly well on DVD. Martin Campbell's film could muster only a 27% positive rating on Rotten Tomatoes, but a lot of fans who wouldn't spring for the expensive 3-D tickets, might want to check out the film on DVD. The jury may be out on Ryan Reynolds as an action hero, but the film's failure is more likely ascribed to the fact that the mass audience just had a hard time swallowing the elaborate Green Lantern cosmology, which bears no relation to any sort of physical reality posited by astrophysicists. Unlike most superhero sagas, which are at least loosely based on scientific concepts like genetic mutation, Green Lantern is more of an out and out fantasy and has to be taken on its own terms. While the Green Lantern movie's theatrical performance was a major disappointment, solid sales of the DVDs and BDs could reinforce Warner Bros. commitment to the property, which the studio hoped would help replace the lost revenue from the departing Harry Potter franchise, and to which, in spite of the fact that the first film lost money, several powerful figures at the studio apparently remain committed.
Also due out this week is Horrible Bosses (Warner Bros., "R," $28.98, BD Combo $35.99), a crude, rude, and occasionally clever dark comedy that never quite lives up to its high concept premise, but still delivers some laughs. Horrible Bosses, which cost $35 million to produce, earned a solid $209 million worldwide.
Horrible Bosses managed a strong 69% positive rating on review aggregator Rotten Tomatoes, but that pales beside the 84% earned by Terrance Malick's The Tree of Life (Fox, "PG-13," BD/Combo $39.99) a deliberate, multi-faceted look at a dysfunctional Midwestern family during the 1950s. Malick flashes back and forth in time in this family epic, which he appears to connect with the evolution of life on earth. The Tree of Life is the sort of intellectually ambitious double-dome exercise in "cinema" that appeals to critics far more than audiences (it earned a paltry $13.2 million), but it does include excellent performances from Brad Pitt, Jessica Chastain, and Sean Penn and it will please a large portion of those who enjoy art house movies, though even some members of "the serious cinema crowd" will find this film too meandering and glacial in its pace.
Kevin James stars in Zookeeper (Sony, "PG," $30.99, BD $35.99, BD Combo $44.95), a forgettable talking animal movie in which zoo creatures dispense mating advice to a hapless human, the eponymous hero played by James. As might be expected from its hackneyed premise, Zookeeper earned only a 13% positive rating from the critics, though audiences, who are generally entranced by James' innate likeability, graded it somewhat higher--and the film did manage to earn $160 million worldwide.
TV on DVD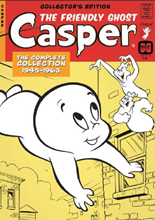 After a couple of weeks of heavy releases coinciding with the start of the new fall TV season, this week marks a bit of a respite, but there are some very interesting offerings including
Casper the Friendly Ghost: The Collector's Edition
(Shout Factory, 480 min., $29.93), which includes all 81 theatrical cartoons featuring the affable apparition, which were produced by Paramount's Famous Studio between 1945 and 1963. Casper quickly established himself as a cultural icon, a process that was aided by a series of Harvey comic books and a number of TV shows that recycled the
Casper
theatrical cartoons and then produced (after 1963) new cartoons featuring the pint-sized poltergeist. Watching the original
Casper
theatrical cartoons it is clear why this series succeeded in spite of a dearth of original plots—the good-hearted Casper is cute and charming, which makes rooting for him to be able to overcome the initial revulsion that his ghostly status creates a natural reaction for most audiences, especially kids.
Other animated offerings include Aqua Teen Hunger Force--Aqua Unit Patrol Squad 1: Season 1 (Warner Bros., 187 min., $29.98), a 2-disc collection of the latest re-branding of the popular Adult Swim animated series. The irreverent Aqua Teen Hunger Force became the Aqua Unit Patrol Squad with only one objective—to kick crime in the nuts. Law and Order, CSI and other multi-spin-off crime series had better watch their backs.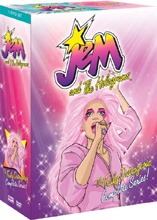 Also out this week is
Jem and the Holograms: The Truly Outrageous Complete Series
(Shout Factory, 1500 min., $89.99), which includes all 65 episodes of the 1980s series produced by toy company Hasbro and animation studio Sunbow Productions (
G.I. Joe
). The actual animation of this series, which was groundbreaking for Saturday morning fare in its emphasis on rock music, was done in Japan by Toei, so this show, which is currently airing on Hasbro's The Hub network, is of some interest to anime fans.
Green Lantern fans might be interested in the animated Best of Green Lantern (Warner Bros., 88 min., $14.98), which includes 5 episodes featuring Green Lantern's guest appearance in other DC characters' cartoon such as Batman: The Brave and the Bold, Justice League, Superman, and The Batman.
Live action releases with serious cult appeal include The Incredible Hulk Returns/The Trial of the Incredible Hulk (Image, 200 min., $9.98), which contains two made-for-TV movies that appeared in 1988 and 1989 respectively and starred the cast of The Incredible Hulk TV series (Bill Bixby, Lou Ferrigno, etc.). Also of interest are The Girl From U.N.C.L.E.: The Complete Series Part 1 (Warner Bros., 750 min., $49.99) and The Girl From U.N.C.L.E.: The Complete Series Part 2 (Warner Bros., 750 min., $49.99), which star Stephanie Powers in the James Bond-influenced series that spun-off from The Man From U.N.C.L.E. and aired during 1966 and 1967.
The one contemporary continuing U.S. series with a definite geek factor due out this week is Chuck: The Complete 4th Season (Warner Bros., 700 min., $59.98, BD $69.97), the NBC show about a big box electronic store salesman-turned secret agent. The likeable show is just beginning its fifth and final season on network TV. Continuing series with new DVD releases include the classic western Bonanza: The Official Season 2, Vol.2 (Paramount, 797 min., $39.98), the popular contemporary series about a forensic anthropologist Bones: Season 6 (Fox, 1001 min., $59.99, BD $69.99), the long-running classic oater Gunsmoke: The 5th Season, Vol.1 (Paramount, 521 min., $38.98), and a collection of holiday-themed episodes from the sitcom That 70s Show-Holiday Edition: 10 Festive Episodes (Mill Creek, 230 min., $5.98).
There are several U.K. offerings of great interest this week including the massive
Doctor Who: The David Tennant Years
(BBC, 2,385 min., $199.98), which contains 26 discs that include all 49 episodes of the revived
Doctor Who
series starring David Tennant as the 10th Doctor, who is certainly the most popular Whovian incarnation since Tom Baker. This set contains lots of neat extras including a complete "read through" of an episode, as well as a "Doctor Who at Comic-Con" feature. For fans of the classic
Doctor Who
series there is
Doctor Who-Story 09: Talons of Weng-Chiang Special Edition
(BBC, 150 min., $34.98), a classic six-part story featuring Tom Baker (the Fourth Doctor) that is set in Victorian England and was first broadcast in 1977.
Making its debut in the U.S. on DVD is Snuff Box: The Complete Series (MPI, 180 min., $24.98), a dark comedy series created by Matt Berry and Rich Fulcher. Berry and Fulcher met during the production of The Mighty Boosh and created this wonderfully depraved sitcom about a pair of happy hangmen, which contains many surreal flourishes including snappy musical numbers that recall Monty Python's Flying Circus.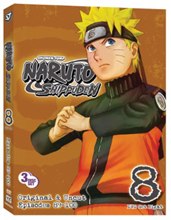 Another U.K. series with serious cult appeal is
Bonekickers
(Acorn Media, 451 min., BD $39.99), a single-season 2008 BBC series from the creator
of Life on Mars
about a team of archaeologists that has been described as "
CSI
meets
Indiana Jones
." All six episodes of this short-lived, but fascinating series are now available on Blu-ray for the first time.
Also fascinating in its own low-rent way is Trailer Park Boys: The Complete Collection (Alliance Home Entertainment, $119.98), which includes 55 plus episodes of the Canadian mockumentary series about the misadventures of a trio of trailer park denizens whose get rich quick schemes are constantly being thwarted by the vindictive, ex-cop supervisor of the trailer park where they live in Nova Scotia. Here's one observer who thinks Canadians do this sort of blue collar comedy as well or better than their south-of-the-border counterparts.
Anime
The top release this week is
Naruto Shippuden Box Set 8
(Viz Media, "16+," 300 min., $49.95), which includes episodes 89 to 100 of the popular ninja series, which appears on the Disney XD channel. Also new this week is
Kobato Collection 2
(Sentai Filmworks, 13+, 300 min., $49.98), which contains episodes 13 to 24 of the Madhouse adaptation of the shonen manga series by Clamp that aired in Japan in 2009 and 2010.
Then there is
Tales of the Abyss, Part 1
(Bandai, "13+," 175 min., $29.98), a single-disc release that includes the first seven episodes of the anime based on the popular Namco console role-playing game. This series was originally slated to debut in June (see "
Green Lantern, Transformers, & True Grit
"), but was moved back to October. Another single-disc release is the flash-animated
Hero: 108 Season 1 DVD 3
(Viz Media, all ages, 130 min., $9.97) that appears on the Cartoon Network.
Media Blasters is continuing its release of the Studio Pierrot-produced Twelve Kingdoms anime series on Blu-ray with Twelve Kingdoms Blu-Ray Part 2: Sea of the Wind, Shore of the Maze (Media Blasters, 475 min., $59.99).
Dragon Ball Z Dragon Box 7 (Funimation, "13+," 1025 min., $59.98), which contains episodes #251-291 of the long-running series leads this week's re-priced releases, which also include Initial D: Stage 1 Complete Collection (Funimation, "13+," 650 min., $29.98) and the Princess Tutu Complete Collection (Aesir, "14+," 625 min., $39.98).