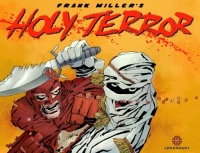 These are estimates of the sales on graphic novels by Diamond U.S. to comic specialty stores during September 2011.

For an overview and analysis of comic sales in September, see "'Batman' #1 Tops September Sales."

For an analysis of the dollar trends in September, see "DC Wins September Market Share."

For our estimates of actual sales by Diamond U.S. from comic specialty stores on comic books shipped during September, see "Top 300 Comics Actual--September 2011."


Top 300 GNs -- September 2011

Rank

Index

Title

Price

Pub

Est.Qty

1

5.27

HOLY TERROR HC (MR)

$29.99

LEG

9,939

2

4.37

NEW TEEN TITANS GAMES HC

$24.99

DC

8,231

3

3.22

CHEW TP VOL 04 FLAMBE (MR)

$12.99

IMA

6,058

4

2.82

CASTLE PREM HC RICHARD CASTLES DEADLY STORM

$19.99

MAR

5,307

5

2.77

HELLBOY TP VOL 11 BRIDE OF HELL & OTHERS

$19.99

DAR

5,215

6

2.71

MORNING GLORIES TP VOL 02

$12.99

IMA

5,101

7

2.26

BRIGHTEST DAY HC VOL 03

$29.99

DC

4,259

8

1.97

SAILOR MOON TP KODANSHA ED VOL 01

$10.99

RAN

3,709

9

1.95

NARUTO TP VOL 52

$9.99

VIZ

3,677

10

1.57

UNCANNY X-FORCE TP VOL 01 APOCALYPSE SOLUTION

$15.99

MAR

2,952

11

1.48

SAVAGE SWORD OF CONAN TP VOL 10

$19.99

DAR

2,781

12

1.47

IZOMBIE TP VOL 02 UVAMPIRE (MR)

$14.99

DC

2,771

13

1.39

IRREDEEMABLE TP VOL 07

$16.99

BOO

2,618

14

1.39

UNCANNY X-MEN TP BREAKING POINT

$16.99

MAR

2,617

15

1.39

GREEN LANTERN SINESTRO CORPS WAR TP

$29.99

DC

2,610

16

1.38

CODENAME SAILOR V TP VOL 01

$10.99

RAN

2,601

17

1.38

BATMAN THE WIDENING GYRE TP

$17.99

DC

2,592

18

1.36

THANOS IMPERATIVE TP

$19.99

MAR

2,557

19

1.31

BERSERK TP VOL 35

$14.99

DAR

2,460

20

1.29

CROSSED TP VOL 02 FAMILY VALUES (MR)

$19.99

AVA

2,426

21

1.26

BLEACH TP VOL 36

$9.99

VIZ

2,368

22

1.25

CODE WORD GERONIMO HC

$15.99

IDW

2,354

23

1.25

ULTIMATE COMICS THOR TP

$15.99

MAR

2,353

24

1.18

OZ HC OZMA OF OZ

$29.99

MAR

2,229

25

1.16

ASTONISHING X-MEN TP XENOGENESIS

$19.99

MAR

2,195

26

1.15

MASS EFFECT TP VOL 02 EVOLUTION

$16.99

DAR

2,164

27

1.14

WOLVERINE WOLVERINE GOES TO HELL TP

$19.99

MAR

2,153

28

1.14

HABIBI GN (MR)

$35.00

RAN

2,152

29

1.14

LOVE AND ROCKETS NEW STORIES TP VOL 04 (MR)

$14.99

FAN

2,142

30

1.13

VENOM BY RICK REMENDER PREM HC VOL 01

$19.99

MAR

2,126

31

1.13

RUSE TP VICTORIAN GUIDE TO MURDER

$14.99

MAR

2,124

32

1.08

JLA TP VOL 01

$19.99

DC

2,037

33

1.05

GREEN LANTERN CORPS THE WEAPONER HC

$22.99

DC

1,987

34

1.05

STAR WARS OMNIBUS EPISODES I-VI COMP SAGA TP

$24.99

DAR

1,976

35

1.01

CARBON GREY TP VOL 01 SISTERS AT WAR

$9.99

IMA

1,911

36

0.99

SUPERGOD TP VOL 01 (MR)

$17.99

AVA

1,864

37

0.99

THOR FOR ASGARD TP

$19.99

MAR

1,862

38

0.99

HELLRAISER TP VOL 01 (MR)

$9.99

BOO

1,859

39

0.99

FULLMETAL ALCHEMIST VOL 26

$9.99

VIZ

1,858

40

0.99

WALKING DEAD TP VOL 01 DAYS GONE BYE

$9.99

IMA

1,857

41

0.97

SIGIL TP OUT OF TIME

$14.99

MAR

1,833

42

0.96

ULTIMATE COMICS NEW ULTIMATES THOR REBORN TP

$19.99

MAR

1,807

43

0.96

GRIMM FAIRY TALES TP VOL 10

$15.99

ZEN

1,803

44

0.96

SUPERMAN THE BLACK RING HC VOL 02

$29.99

DC

1,803

45

0.95

MEGA MAN TP VOL 01

$11.95

ARC

1,790

46

0.95

NEW YORK FIVE TP (MR)

$14.99

DC

1,783

47

0.94

DEADPOOL ALL IN FAMILY TP

$12.99

MAR

1,779

48

0.92

OH MY GODDESS RTL TP VOL 39

$10.99

DAR

1,726

49

0.91

NEGIMA GN VOL 31 (MR)

$10.99

RAN

1,714

50

0.89

INFINITY GAUNTLET TP

$24.99

MAR

1,681

51

0.88

ULTIMATE AVENGERS VS NEW ULTIMATES DOSM PREM HC

$24.99

MAR

1,653

52

0.88

SONIC UNIVERSE TP VOL 01

$11.95

ARC

1,652

53

0.85

AMULET SC VOL 04 LAST COUNCIL

$10.99

SCH

1,608

54

0.85

JUSTICE LEAGUE OF AMERICA TEAM HISTORY TP

$17.99

DC

1,599

55

0.84

AVENGERS PRIME TP

$16.99

MAR

1,592

56

0.84

KAMANDI OMNIBUS HC VOL 01 LAST BOY ON EARTH

$49.99

DC

1,576

57

0.82

COVER STORY DC COMICS ART OF BRIAN BOLLAND HC

$39.99

DC

1,542

58

0.82

GODZILLA KINGDOM OF MONSTERS TP VOL 01

$17.99

IDW

1,540

59

0.81

ARTIFACTS TP VOL 02

$14.99

IMA

1,533

60

0.79

SHOWCASE PRESENTS ALL STAR COMICS TP VOL 01

$19.99

DC

1,497

61

0.79

X-MEN ORIGINS II TP

$19.99

MAR

1,493

62

0.78

WALKING DEAD TP VOL 14 NO WAY OUT (MR)

$14.99

IMA

1,472

63

0.78

TRUE BLOOD HC VOL 02 TAINTED LOVE

$24.99

IDW

1,461

64

0.76

BLUE ESTATE TP VOL 01 (MR)

$12.99

IMA

1,440

65

0.76

GREEK STREET TP VOL 03 MEDEAS LUCK (MR)

$14.99

DC

1,427

66

0.75

SUICIDE GIRLS TP VOL 01

$19.99

IDW

1,415

67

0.74

SHADOWLAND MOON KNIGHT TP

$15.99

MAR

1,386

68

0.74

PUNISHER CIRCLE OF BLOOD TP

$16.99

MAR

1,385

69

0.73

SPIDER-MAN VENGEANCE OF VENOM TP

$34.99

MAR

1,378

70

0.72

DEADPOOL PREM HC VOL 08 OPERATION ANNIHILATION

$19.99

MAR

1,355

71

0.70

STAND TP VOL 01 CAPTAIN TRIPS

$14.99

MAR

1,328

72

0.70

ALL NEW BATMAN BRAVE AND THE BOLD TP

$12.99

DC

1,316

73

0.70

HALO FALL OF REACH TP BOOT CAMP (MR)

$16.99

MAR

1,314

74

0.67

ONE PIECE TP VOL 58

$9.99

VIZ

1,265

75

0.67

JUSTICE LEAGUE OF AMERICA OMEGA HC

$24.99

DC

1,262

76

0.67

X-MEN FIRST TO LAST PREM HC

$19.99

MAR

1,256

77

0.66

JUSTICE SOCIETY OF AMERICA SUPER TOWN TP

$14.99

DC

1,244

78

0.66

MMW INVINCIBLE IRON MAN HC VOL 07

$54.99

MAR

1,237

79

0.65

GOD SOMEWHERE TP NEW ED (MR)

$17.99

DC

1,234

80

0.63

HACK SLASH TP VOL 09 TORTURE PRONE

$16.99

IMA

1,178

81

0.62

POKEMON BLACK & WHITE GN VOL 03

$4.99

VIZ

1,162

82

0.62

COMPLETE MAJOR BUMMER SUPER SLACKTACULAR TP

$29.99

DAR

1,161

83

0.61

BOMB QUEEN GANG BANG TP (MR)

$14.99

IMA

1,153

84

0.61

IRON MAN 2.0 TP VOL 01 PALMER ADDLEY IS DEAD

$16.99

MAR

1,153

85

0.60

TITANS FAMILY REUNION TP

$14.99

DC

1,125

86

0.59

DUNGEONS & DRAGONS FR DRIZZT OMNIBUS TP VOL 01

$24.99

IDW

1,120

87

0.59

BLOOD BLOCKADE BATTLEFRONT TP VOL 01

$10.99

DAR

1,115

88

0.59

XXXHOLIC GN VOL 17

$10.99

RAN

1,109

89

0.59

GFT MYTHS & LEGENDS TP VOL 01 (MR)

$15.99

ZEN

1,107

90

0.58

NEW MUTANTS TP VOL 03 FALL OF NEW MUTANTS

$19.99

MAR

1,099

91

0.58

GREEN WAKE TP VOL 01 (MR)

$16.99

IMA

1,096

92

0.58

ESSENTIAL DEFENDERS TP VOL 06

$19.99

MAR

1,087

93

0.57

GI JOE SPECIAL MISSIONS TP VOL 04

$19.99

IDW

1,076

94

0.56

LEGION OF SUPER HEROES HC VOL 02 CONSEQUENCES

$24.99

DC

1,063

95

0.56

WOLVERINE OLD MAN LOGAN TP

$29.99

MAR

1,052

96

0.56

ENDERS GAME FORMIC WARS BURNING EARTH PREM HC

$24.99

MAR

1,050

97

0.56

WALKING DEAD TP VOL 02 MILES BEHIND US (NEW PTG)

$14.99

IMA

1,050

98

0.56

ASTONISHING THOR HC

$24.99

MAR

1,047

99

0.55

BATMAN DARK KNIGHT RETURNS TP

$14.99

DC

1,042

100

0.55

SECRET WARRIORS PREM HC VOL 06 WHEELS WITHIN WHEELS

$19.99

MAR

1,041

101

0.55

TRANSFORMERS ONGOING TP VOL 04

$17.99

IDW

1,032

102

0.55

MARVEL ZOMBIES SUPREME HC

$24.99

MAR

1,029

103

0.54

ASTRO CITY LIFE IN THE BIG CITY TP NEW ED

$17.99

DC

1,026

104

0.53

STRANGE TALES II TP

$19.99

MAR

998

105

0.52

FINDER LIBRARY TP VOL 02

$24.99

DAR

983

106

0.52

KORGI GN VOL 03 A HOLLOW BEGINNING

$9.95

TOP

982

107

0.52

DISNEY FOUR COLOR ADVENTURES TP VOL 01

$14.99

BOO

977

108

0.51

SPAWN ORIGINS TP VOL 12

$14.99

IMA

970

109

0.51

ALPHA FLIGHT CLASSIC TP VOL 02

$29.99

MAR

966

110

0.50

ARCHIE THE MARRIED LIFE TP VOL 01

$19.99

ARC

951

111

0.50

WONDERLAND HOUSE OF LIDDLE TP VOL 01 (MR)

$15.99

ZEN

938

112

0.49

FANTASTIC FOUR PREM HC OVERTHROW OF DOOM

$29.99

MAR

926

113

0.49

EMMA PREM HC

$19.99

MAR

925

114

0.49

AVENGERS ASSAULT ON OLYMPUS PREM HC

$29.99

MAR

924

115

0.49

BATMAN HUSH COMPLETE TP

$24.99

DC

916

116

0.49

NEW X-MEN BY GRANT MORRISON GN TP BOOK 05

$14.99

MAR

915

117

0.48

MORIARTY TP VOL 01

$14.99

IMA

906

118

0.47

NEW AVENGERS HC VOL 07

$39.99

MAR

889

119

0.47

BATMAN YEAR ONE DELUXE SC

$14.99

DC

878

120

0.46

SANDMAN TP VOL 01 PRELUDES & NOCTURNES NEW ED (MR)

$19.99

DC

873

121

0.46

SWEETS NEW ORLEANS CRIME STORY TP (MR)

$14.99

IMA

871

122

0.46

ANITA BLAKE PREM HC CIRCUS OF DAMNED INGENUE BOOK 02 (MR)

$19.99

MAR

860

123

0.45

DUNGEONS & DRAGONS FORGOTTEN REALMS TP VOL 02

$24.99

IDW

853

124

0.45

SUGAR AND SPIKE ARCHIVES HC VOL 01

$59.99

DC

846

125

0.45

BARKS BEAR BOOK HC

$34.99

IDW

840

126

0.44

CREEPY ARCHIVES HC VOL 11

$49.99

DAR

826

127

0.44

KUNG FU PANDA DIGEST GN VOL 01 KUNG FU CREW

$6.95

APE

826

128

0.42

TOM STRONGS TERRIFIC TALES TP BOOK 02

$17.99

DC

787

129

0.41

LOEG III CENTURY #2 1969 (MR)

$9.95

TOP

778

130

0.41

CHARMED TP VOL 02 (MR)

$17.99

ZEN

774

131

0.41

MARK TWAINS AUTOBIOGRAPHY 1910-2010 HC

$19.99

FAN

769

132

0.41

ELEPHANTMEN TP VOL 04 QUESTIONABLE THINGS (MR)

$24.99

IMA

768

133

0.41

LOCKE & KEY TP VOL 01 WELCOME TO LOVECRAFT

$19.99

IDW

767

134

0.41

WATCHMEN TP

$19.99

DC

767

135

0.40

ZOMBIES CHRISTMAS CAROL HC

$24.99

MAR

752

136

0.39

DEATH NOTE BLACK ED TP VOL 05

$14.99

VIZ

743

137

0.39

GON GN KODANSHA ED VOL 01

$10.99

RAN

743

138

0.39

SHADOWLAND BLOOD ON STREETS TP

$15.99

MAR

742

139

0.39

MMW GOLDEN AGE MARVEL COMICS HC VOL 06

$59.99

MAR

739

140

0.39

BATMAN THE KILLING JOKE SPECIAL ED HC

$17.99

DC

732

141

0.39

MARVEL ADV AVENGERS THOR CAPTAIN AMERICA DIGEST TP

$9.99

MAR

732

142

0.39

WALKING DEAD TP VOL 03 SAFETY BEHIND BARS

$14.99

IMA

730

143

0.39

BLACKEST NIGHT TP

$19.99

DC

726

144

0.38

ARCHIE CHRISTMAS CLASSICS TP VOL 01

$14.95

ARC

725

145

0.38

LOVESTRUCK GN (MR)

$16.99

IMA

724

146

0.38

DARK TOWER OMNIBUS HC SLIPCASE SET

$150.00

MAR

723

147

0.38

SIMPSONS TREEHOUSE OF HORROR TP VOL 06 BEYOND THE GRAVE

$17.99

HAR

722

148

0.38

FABLES TP VOL 01 LEGENDS IN EXILE

$12.99

DC

716

149

0.38

CUBA MY REVOLUTION TP (MR)

$17.99

DC

712

150

0.37

POWERS PREM HC VOL 02 ROLEPLAY (MR)

$19.99

MAR

705

151

0.37

SHADOWLAND POWER MAN TP

$15.99

MAR

699

152

0.37

DRIVER FOR THE DEAD TP VOL 01 (MR)

$14.95

RAL

688

153

0.36

IRON MAN INDUSTRIAL REVOLUTION TP

$16.99

MAR

686

154

0.36

PRISON PIT GN BOOK 03 (MR)

$12.99

FAN

685

155

0.36

CHEW TP VOL 01 (MR)

$9.99

IMA

683

156

0.35

ASTONISHING SECRET OF AWESOME MAN YR GN

$17.99

HAR

668

157

0.35

OFF HANDBOOK OF MARVEL UNIVERSE A TO Z TP VOL 01

$19.99

MAR

659

158

0.35

STAR WARS JEDI PATH HC

$19.95

CHR

658

159

0.35

GI JOE ORIGINS TP VOL 05

$17.99

IDW

655

160

0.34

CAPTAIN AMERICA BY DAN JURGENS TP VOL 02

$29.99

MAR

650

161

0.34

CAPTAIN BRITAIN HC VOL 02 SIEGE OF CAMELOT

$39.99

MAR

649

162

0.34

Y THE LAST MAN TP VOL 10 WHYS AND WHEREFORES (MR)

$14.99

DC

643

163

0.33

WALKING DEAD TP VOL 04 HEARTS DESIRE (NEW PTG)

$14.99

IMA

625

164

0.33

ART OF JOE KUBERT HC

$39.99

FAN

616

165

0.33

GI JOE DISAVOWED TP VOL 04

$19.99

IDW

613

166

0.32

AVENGERS OFF INDEX TO MARVEL UNIVERSE GN TP

$19.99

MAR

610

167

0.32

DOCTOR WHO CLASSICS TP VOL 07

$19.99

IDW

605

168

0.32

NAM TP VOL 03

$29.99

MAR

601

169

0.32

ARCHIES JOKE BOOK HC VOL 01 BOB MONTANA

$29.99

IDW

600

170

0.32

EVOLUTIONARY WAR OMNIBUS HC

$74.99

MAR

600

171

0.32

PHERONE TP (MR)

$14.99

IMA

600

172

0.32

WALKING DEAD TP VOL 13 TOO FAR GONE (MR)

$14.99

IMA

600

173

0.32

DONE TO DEATH GN

$19.99

IDW

598

174

0.32

FANTASTIC FOUR WORLDS GREATEST COMICS MAGAZINE HC

$34.99

MAR

596

175

0.31

KANNAGI GN VOL 02 (OF 6)

$10.99

BAN

593

176

0.31

BATMAN KNIGHTFALL TP PART 01 BROKEN BAT

$19.99

DC

584

177

0.31

WALKING DEAD TP VOL 09 HERE WE REMAIN (MR)

$14.99

IMA

581

178

0.31

BLACK BIRD GN VOL 10

$9.99

VIZ

580

179

0.31

PHOENIX WRIGHT GN VOL 02

$10.99

RAN

580

180

0.31

DRACULA GN TP

$16.99

MAR

578

181

0.31

ARCHIE ARCHIVES HC VOL 02

$49.99

DAR

576

182

0.30

WALKING DEAD TP VOL 05 BEST DEFENSE (NEW PTG)

$14.99

IMA

570

183

0.30

JENNY FINN DOOM MESSIAH TP

$14.99

BOO

565

184

0.29

CAGE OF EDEN GN VOL 01

$10.99

RAN

555

185

0.29

UNTIL THE FULL MOON GN VOL 01 (MR)

$10.99

RAN

552

186

0.29

WE 3 DELUXE EDITION HC (MR)

$24.99

DC

552

187

0.29

NARUTO 3-IN-1 ED VOL 03

$14.99

VIZ

550

188

0.29

V FOR VENDETTA NEW EDITION TP (MR)

$19.99

DC

546

189

0.29

BLOODY MONDAY GN VOL 01

$10.99

RAN

544

190

0.29

WALKING DEAD TP VOL 10 WHAT WE BECOME

$14.99

IMA

543

191

0.28

CIVIL WAR TP

$24.99

MAR

535

192

0.28

WALKING DEAD TP VOL 11 FEAR THE HUNTERS (MR)

$14.99

IMA

524

193

0.27

WALKING DEAD TP VOL 12 LIFE AMONG THEM

$14.99

IMA

517

194

0.27

TRANSFORMERS CLASSICS TP VOL 01

$24.99

IDW

514

195

0.27

WALKING DEAD TP VOL 06 SORROWFUL LIFE (MR)

$14.99

IMA

509

196

0.27

ASTONISHING X-MEN BY WHEDON & CASSADAY OMNIBUS HC

$75.00

MAR

508

197

0.27

ESSENTIAL SPIDER-MAN TP VOL 02 NEW ED

$19.99

MAR

506

198

0.27

SCOTT PILGRIM GN VOL 01 PRECIOUS LITTLE LIFE

$11.99

ONI

505

199

0.27

ARKHAM ASYLUM ANNIVERSARY ED SC (MR)

$17.99

DC

501

200

0.27

WALKING DEAD TP VOL 08 MADE TO SUFFER (MR)

$14.99

IMA

501

201

0.26

SHUGO CHARA GN VOL 12

$10.99

RAN

495

202

0.26

UNDYING LOVE TP (MR)

$14.99

IMA

493

203

0.26

ARMED GARDEN & OTHER STORIES HC (MR)

$19.99

FAN

489

204

0.26

Y THE LAST MAN TP VOL 01 UNMANNED

$14.99

DC

487

205

0.25

WALKING DEAD TP VOL 07 THE CALM BEFORE

$14.99

IMA

480

206

0.25

MARDOCK SCRAMBLE GN VOL 01

$10.99

RAN

479

207

0.25

BIG QUESTIONS TP (MR)

$44.95

DRA

476

208

0.25

CHEW TP VOL 02 INTERNATIONAL FLAVOR (MR)

$12.99

IMA

469

209

0.25

PENNY FOR YOUR SOUL TP VOL 01 WAR (MR)

$19.99

BIG

467

210

0.25

LOCKE & KEY TP VOL 02 HEAD GAMES

$19.99

IDW

462

211

0.24

SPELL CHECKERS GN VOL 02 SONS OF PREACHER MAN

$11.99

ONI

460

212

0.24

KIMI NI TODOKE GN VOL 10 FROM ME TO YOU

$9.99

VIZ

459

213

0.24

WALKING DEAD COMPENDIUM TP VOL 01 (MR)

$59.99

IMA

456

214

0.24

ROBERT JORDAN EYE OF THE WORLD HC VOL 01

$24.99

ST.

454

215

0.24

ESSENTIAL SPIDER-MAN TP VOL 03 NEW ED

$19.99

MAR

452

216

0.24

DEADWORLD LAST SIESTA GN

$14.99

IDW

448

217

0.24

ULTIMO GN VOL 06

$9.99

VIZ

443

218

0.23

KINGDOM COME TP NEW EDITION

$17.99

DC

442

219

0.23

FABLES TP VOL 15 ROSE RED (MR)

$17.99

DC

441

220

0.23

POTTERS FIELD TP

$14.99

BOO

440

221

0.23

LIBRARY WARS LOVE & WAR VOL 06

$9.99

VIZ

435

222

0.23

CHEW TP VOL 03 JUST DESSERTS (MR)

$12.99

IMA

432

223

0.23

TRANSMETROPOLITAN TP VOL 01 BACK ON THE STREET (MR)

$14.99

DC

429

224

0.23

BATMAN DARK VICTORY TP

$19.99

DC

425

225

0.23

MNEMOVORE HC (IDW)

$24.99

IDW

425

226

0.22

PREACHER TP VOL 01 GONE TO TEXAS NEW EDITION (MR)

$17.99

DC

418

227

0.22

WITCH & WIZARD MANGA VOL 01

$12.99

HAC

414

228

0.22

DARKNESS COMPENDIUM EDITION TP NEW PTG

$69.99

IMA

410

229

0.22

SANDMAN TP VOL 02 THE DOLLS HOUSE NEW ED (MR)

$19.99

DC

410

230

0.22

DENGEKI DAISY GN VOL 06

$9.99

VIZ

406

231

0.21

HAYATE COMBAT BUTLER TP VOL 18

$9.99

VIZ

405

232

0.21

LOCKE & KEY HC VOL 04 KEYS TO THE KINGDOM

$24.99

IDW

404

233

0.21

SPAWN ORIGINS HC VOL 04

$29.99

IMA

403

234

0.21

BATTLESTAR GALACTICA SEASON ZERO OMNIBUS TP

$24.99

DYN

401

235

0.21

SERENITY SHEPHERDS TALE HC

$14.99

DAR

393

236

0.21

MARVEL GHOST STORIES GN TP

$19.99

MAR

392

237

0.21

BATWOMAN TP VOL 01 ELEGY

$17.99

DC

391

238

0.21

LITTLE LULU GIANT SIZE TP VOL 04

$24.99

DAR

391

239

0.21

ESSENTIAL SPIDER-MAN TP VOL 04 NEW ED

$19.99

MAR

390

240

0.21

100 BULLETS TP VOL 01 FIRST SHOT LAST CALL

$9.99

DC

388

241

0.20

DAYBREAK HC (MR)

$21.95

DRA

385

242

0.20

SUPERMAN RED SON TP

$17.99

DC

382

243

0.20

BUNNY DROP GN VOL 04

$12.99

HAC

381

244

0.20

A ZOO IN WINTER HC

$23.00

DIA

378

245

0.20

HONDO CITY LAW GN

$18.99

POC

378

246

0.20

THOR BY WALTER SIMONSON OMNIBUS HC

$125.00

MAR

375

247

0.20

BATMAN UNDER THE RED HOOD TP

$29.99

DC

374

248

0.20

ZOMBIE TALES OMNIBUS OUTBREAK

$19.99

BOO

374

249

0.20

X-MEN SECOND COMING TP

$34.99

MAR

371

250

0.20

FABLES TP VOL 02 ANIMAL FARM

$12.99

DC

368

251

0.19

ASTRO CITY LIFE IN THE BIG CITY HC NEW ED

$29.99

DC

366

252

0.19

AMERICUS GN

$14.99

ST.

364

253

0.19

LOCKE & KEY TP VOL 03 CROWN OF SHADOWS

$19.99

IDW

360

254

0.19

Y THE LAST MAN TP VOL 02 CYCLES (MR)

$12.99

DC

356

255

0.19

BAMBOO BLADE TP VOL 10

$11.99

HAC

355

256

0.19

SERENITY HC VOL 02 BETTER DAYS & OTHER STORIES

$19.99

DAR

353

257

0.19

DETROIT METAL CITY GN VOL 10 (MR)

$12.99

VIZ

350

258

0.19

LIKE A SNIPER LINING UP HIS SHOT HC (MR)

$18.99

FAN

349

259

0.18

CHIMICHANGA HC

$14.99

DAR

348

260

0.18

FABLES TP VOL 03 STORYBOOK LOVE (MR)

$14.99

DC

347

261

0.18

DRIFTERS VOL 01 (MR)

$12.99