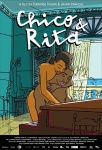 The U.S. art book and graphic novel publisher Abrams announced today that it had signed a letter of intent to acquire the London-based graphic novel publisher SelfMadeHero. The acquisition is expected to be finalized over the next few weeks. Emma Hayley will remain as SelfMadeHero's managing director, but U.K. and export distribution of the publisher's titles will be handled by Abrams & Chronicle Books.

In the spring of 2012 SelfMadeHero will launch an American list of graphic novels, which will complement Abrams other releases through its Abrams Comic Arts imprint. Abrams Comic Arts had previously handled the U.S. publication of SelfMadeHero's biographical graphic novel Johnny Cash: I See a Darkness by Reinhard Kleist in late 2009.
The spring 2012 launch of the SelfMadeHero North American graphic novel list will include Chico & Rita by Fernando Trueba and Javier Mariscal, Kiki de Montparnasse by Catel and Bouquet, The Lovecraft Anthology Vol.1 edited by Don Lockwood, But I Really Wanted to Be an Anthropologist by Margaux Motin, and Best of Enemies: A History of U.S. and Middle Eastern Relations by David B and Jean-Pierre Filiu.