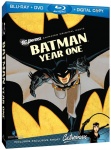 The animated version of Frank Miller and David Mazzucchelli's Batman Year One is this week's top offering in any home entertainment category. It is the culmination of DC's direct-to-DVD program, a stellar version of one of the best superhero graphic novels ever. Other key releases include the ambitious and polarizing Red State from Kevin Smith, a new season of Star Wars: Clone Wars, the return of Robotech, and the DVD debut of the new Thundercats.
Direct to DVD
Batman Year One (Warner Bros., "PG-13" Single disc $19.98, Two-Disc Special Ed. $24.98, BD/Combo $24.98) is simply the best direct-to-DVD animated movie yet from DC Comics, Warner Premiere, and Warner Animation. This faithful adaptation of Frank Miller and David Mazzucchelli's graphic novel has the visceral bite of Miller's best work. Batman Year One is the story of how Bruce Wayne became Batman, but it is also every bit as much the story of Jim Gordon and how the bond between Batman and "Commissioner" Gordon, who is actually a police lieutenant at the time of this saga, was formed. The animation is solid and the voice acting by Bryan Cranston (Jim Gordon), Ben McKenzie (Batman), Jon Polito (Loeb), and Eliza Dushku is first rate, especially Cranston, but the best thing about both the animation and the vocal work is that they never draw attention to themselves and get in the way of Miller's story. The film's character design and visual style are lifted directly from Mazzucchelli's stellar work in the comics—and the Blu-ray is so stunning that it is highly recommended, particularly since it is the same price as the two-disc DVD edition. The extras included on the BD and Two-Disc Special Edition are excellent. They include a "Catwoman" short directed by Lauren Montgomery, a conversation with the 2011 DC Comics Batman creative team, a fascinating "Heat of Vengeance: Returning Batman to His Roots" feature about the making of the film, plus two bonus cartoons, and Chapter One of the Batman Year One Digital Comic, which allows viewers who haven't read it to see how closely the animated movie version follows the comic.
Theatrical Movies
Pirates of the Caribbean: On Stranger Tides was the fourth film in the series and the first one based on an outside literary source, Tim Powers novel On Stranger Tides. American audiences are evidently tiring of this franchise. This installment earned less at the domestic box office than its predecessors in spite of higher 3-D and IMAX ticket prices. But fortunately for Disney overseas audiences accounted for nearly 80% of the film's more than $1 billion gross. There is no doubt that this series has gotten self-indulgent and flabby, but all that extra running time allows for plenty of entertaining acting bits, even if they are often overwhelmed by a surfeit of special effects.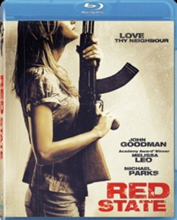 While no one will ever categorize him a great technician, Kevin Smith is one of the most fascinating and independent directors in Hollywood. His forte is the "stoner" comedy, but he has a lot more range than that, though maybe not quite enough for what he attempts in
Red State
(Lions Gate "R," $27.98, BD $29.99), a politically-charged and polarizing teen horror film that quite understandably couldn't find a distributor. Three teens hungry for sex fall into the clutches of a fundamentalist cult inspired by the church run by Fred Phelps that demonstrates against homosexuals at military funerals. Many people on the right, put off by the film's title, don't understand that
Red State
is not an indictment of Christian fundamentalism or flyover country, its real target is bigotry—and there's an attempt at balance that even the NRA should approve of, considering how badly the ATF comes off in a nod to the more conspiratorial theories about the Waco disaster. Perhaps a teenage horror film is not the place to examine the cult mentality in shades of gray, but then you have to give Smith credit for his ambition, even if the his execution occasionally falls short.
For all its flaws and over-the-top performances (Melissa Leo), Red State is closer to reality that Bad Teacher (Columbia, "R," $30.99, BD $40.99). One of this summer's many "R" rated comedies, Bad Teacher stars a foul-mouthed Cameron Diaz as a totally disinterested middle school teacher, who in the sort of logic that defies explanation, has to scam her school in order to finance cosmetic surgery—imagine what kind of con the character might have had to pull off if she had been played by Agnes Moorehead instead of Cameron Diaz.
Like Kevin Smith, Chris Weitz, who came to prominence with the teen sex comedy American Pie, is an often overlooked American director. His latest film, A Better Life (Summit Entertainment, PG-13, $24.98, BD $30.99) about an illegal Mexican immigrant in Los Angeles, who has his truck stolen is a modest neo-realist gem of a film with a storyline that echoes De Sica's The Bicycle Thief. A Better Life, which earned an excellent 86% positive rating from review aggregator Rotten Tomatoes is well worth checking out.
TV Shows on DVD
The top releases this week are animated TV shows including Star Wars: The Clone Wars The Complete Season 3 (Warner Bros., $44.98, BD $59.99), which includes all 22 episodes of Season 3 of the popular Star Wars animated series that airs on the Cartoon Network. (For two equally interesting animated TV show releases check out Thundercats Season 1 Book 1, and Robotech: The Complete Series in the "Anime" section of this column). Also due this week is CatDog: Season 1, Part 1 (Shout Factory, 240 min., $19.93), a two-disc collection that includes the first ten episodes of the Nickelodeon cartoon series, and Peanuts: Snow Days (Warner Bros. 135 min., $14.98), which includes two made for TV episodes, "Snow Days," and "She's a Good Skate, Charlie Brown."
The top live-action TV show due out this week is V: The Complete Second Season (Warner Bros., $39.98, BD $49.99), contains the final episodes of the ABC TV series, which was cancelled after 22 episodes. While not entirely successful, this series was actually a pretty effective updating of the 1983 miniseries, and Morena Baccarin made an excellent alien mastermind and scored major points with the "geek" audience with her sleek good looks and icy demeanor.
There aren't many classic TV or U.K. releases this week, but for younger viewers there is The Complete Little House on the Prairie: The Complete Series (Lionsgate, 9842 min., $149.98), a mammoth 55-disc set covering the entire series starring Michael Landon that was based on the classic children's book series by Laura Ingalls Wilder.
Anime
There's a plethora of anime releases this week including Thundercats 2011 Season 1 Book 1 (Cartoon Network, All Ages, $19.98), a two-disc collection of the new Thundercats cartoon series that is currently airing on the Cartoon Network. This new Thundercats series should have a two-pronged appeal—those who enjoyed the original 1980s feline sci-fi superhero series and anime fans since the new series, which is produced by Studio 4C shows its anime root much more obviously than the original.
For hardcore anime/manga fans however, the major new release this week is Blue Exorcist DVD #1 (Aniplex, 13+, 175 min. $37.48), which though expensive (for just 7 episodes) is based on the supernatural/adventure manga by Kazue Kato (published her by Viz Media) that has been one of the most popular manga releases of 2011. The only other really new material is the single-disc The Girl Who Leapt Through Space Vol. 3 (Bandai, "13+," 150 min. $29.98), the Sunrise-produced mecha comedy that is not be confused the anime feature The Girl Who Leapt Through Time.
While this material has been released numerous times before, it is good to see the Robotech series available once again. Carl Macek cobbled together the hit 1980s Robotech cartoon series from three anime shows, Super Dimension Fortress Macross, Genesis Climber Mospeada, and Super Dimension Cavalry Southern Cross. Now the entire original Robotech series is available— the Robotech Complete Series (A&E, "13+," 1950 min. $99.95) box set includes Robotech: The Macross Saga, Robotech Masters, and Robotech: New Generation). The series are available individually as Robotech Season 1: The Macross Saga (A&E, "13+," $39.95), Robotech Season 2: Second Robotech War/Masters (A&E, $39.95), and Robotech Season 3: Third Robotech War/New Generation (A&E, $39.95).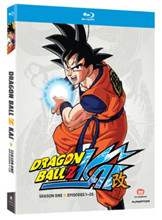 Among the re-priced re-releases due this week are
Dragon Ball Z Kai: Season 1
(Funimation, "13+," 625 min., $49.98, BD $54.98), which features the first 26 episodes of the re-mastered and streamlined
DBZ Kai
series. Since this series has been mastered in hi-def, the Blu-ray is definitely the way to go given the minor price differential.
Also out this week is the Bamboo Blade Complete Collection (Funimation, "13+," 650 min., $29.98), Full Metal Panic! The Complete Second Raid (Funimation, "14+," 325 min., $49.98, BD $49.98), which includes the entire 13-episode Second Raid series plus episode 000 and the OVA "Tessa's Eventful Day," all of which look especially good on Blu-ray. Another interesting supernatural series, Hell Girl Season 2: Two Mirrors DVD Collection (Sentai Filmworks, "14+," 650 min. $69.98), includes both parts of the season that were previously released in two parts (at $49.98 each).
Classics on Blu-ray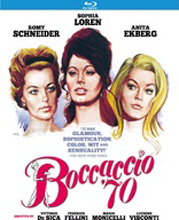 The anthology film was an integral part of the golden age of Italian Cinema from the 1940s to the 1970s and now a couple of 1960s anthology-type film have become available in sparkling hi-def transfers.
Boccaccio 70
(Kino, 204 min, $34.95) was produced in 1962 from an idea by Caesar Zavattini, arguably the most important scenarist of the Golden Age of Italian movies. Rather than literal transpositions of Boccaccio's tales, the four stories in the film present the sort of moral quandaries that Boccaccio exploited in his
Decameron
, while portraying members of all the classes of modern Italian society. The first segment (which was never released outside of Italy) directed by Mario Monicelli follows the neo-realist trials and tribulations of a young lower class couple who have to keep their marriage a secret, then live with her parents, before finally getting their own place, which is so costly that they have to take jobs on different shifts and hence are together only on Sundays. The second segment, Frederico Fellini's "The Temptation of Doctor Anthony" has all the hallmarks of the great director's movies, the gallery of grotesque faces, the surreal humor, and the disdain for conventional uptight morality. Unfortunately seeing the segment again after 45 years, the indictment of bourgeois morality seems a bit overblown, the dubbing (never a Fellini strongpoint) is atrocious (I am talking about the dubbing of the Italian voices), and the segment is about twice as long as it needs to be. It's like so many of those
Saturday Night Live
sketches that start with a great concept, but then just go on, and on, and on. The difference is that the Fellini segment does eventually have a pay-off as the giant image of Anita Ekberg comes to life in a sequence that echoes
King Kong, Attack of the 50 Foot Woman
, and
Will Success Spoil Rock Hunter
. The third segment, which is directed by Luchino Visconti featuring Romy Schneider as a German/Swiss heiress married to a feckless Italian count with a taste for call girls, is one of the best in the film. Visconti actually manages to make you care about at least one of these over-privileged people, who initially appear to be hopelessly superficial. The final segment directed by Vittorio de Sica and starring Sophia Loren as the operator of a shooting gallery in a traveling carnival show is in many ways the slightest of the four, but it is also the most entertaining with plenty of humor and a sense of pacing that is the best in the entire film.
Casanova 70 (Kino, 113 min., BD $34.95) is not an anthology film, though in its own way it is as episodic as Boccaccio 70. Casanova 70 was directed by Mario Monicelli, who helmed the first segment of Boccaccio 70. It stars Marcello Mastroianni as a NATO officer with a peculiar sexual affliction. He can only get amorous when his life is in danger, which causes him to attempt to seduce women in a variety of situations that are rife with comic possibilities. Though watching Marcello's inability to score with a succession of luscious females until he can maneuver them into a perilous enough situation, can be extremely frustrating, Casanova 70 has plenty of comic payoffs including a slapstick chase after a tryst with a reluctant bride at a Sicilian restaurant, and a wonderful trial sequence in which all of the contemporary Casanova's conquests come forward to testify against him. It is important to remember that, though tame by today's standards, Casanova 70 was quite daring when it debuted back in 1965. Fortunately it remains a clever and entertaining film.