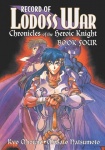 A Paid Advertisement.
CPM Manga has announced the release of the fourth volume of
Record of Lodoss War - Chronicles of the Heroic Knight
, the hugely successful manga inspired by
Dungeons and Dragons
.
Jiba the dark elf has stolen the Crystal Ball of Souls, and only the heroic young knight Spark and his band of crusaders can stop him. If the evil elf is successful, the ancient death goddess, Kardis, will be resurrected. The fate of Lodoss hangs in the balance!!
Be sure to stock up on this hot seller, which will appeal to fans of the Record of Lodoss War video series and role-playing games.

This item has a street date of 2/5/2003.