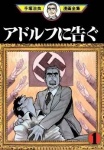 Vertical Publishing announced new manga acquisitions at New York Comic Con, among them classic Tezuka, new Shinkai, and more. The Tezuka release is Message to Adolph, which was originally released as Adolph by Viz more than a decade ago. The Vertical version, featuring a new translation and new covers designed by Peter Mendelsund, will be a two volume hardcover for $26.95 in August 2012.
Moyoco Anno's Sakuran, a one volume josei story about courtesans in the Edo period, will be released in June. "Anno takes this tragic tale and makes it about feminism and women's power," Vertical's Ed Chavez told us.
And finally, Vertical will release the manga adaptation of Makoto Shinkai's 5 Centimeters per Second, including all the color plates, as a one volume omnibus in June.