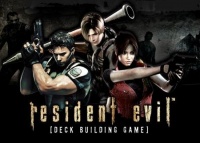 Bandai America will release four licensed game products in Q1: two deckbuilding products, for Resident Evil and Star Trek, and two CCG products for Naruto.
Resident Evil Deck Building Game Expansion: Mercenaries, the fifth game in the Resident Evil DBG line, will ship in late March. Focusing on the Mercenary mode of game play, it will introduce a new Skill system that with payoffs for players that take the risky step of exploring the Mansion, along with custom mansions for different scenarios. MSRP will be $29.99.
The stand-alone Star Trek Deck Building Game Expansion, shipping in January, will add Cardassian characters, along with many characters from the Star Trek: The Next Generation universe. It will include three new Space Decks, with new missions, events, the Borg Queen invasion, and a new team format of war vs. peace. MSRP will be $39.99.
Naruto CCG Tournament Pack 4 Booster Packs, shipping in January at $3.99 per pack, will include both new cards and reprints and will help shape the focus of Naruto CCG "Block" format tournaments. The new cards will include artwork by Hirofumi Suzuki.
And Naruto CCG Series 24 Booster Packs, shipping in February at $3.99 per pack, will have over 100 new cards. It will focus on the fight between Naruto (Sage Mode) and Pain, and include the first cards of Team Samui.