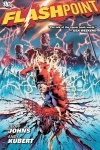 These are estimates of the sales on graphic novels by Diamond U.S. to comic specialty stores during October 2011.
For an overview and analysis of comic sales in October, see "
New 52 #2s Down Only 6%
."
For an analysis of the dollar trends in October, see "
DC Crushes Marvel
."
For our estimates of actual sales by Diamond
U.S.
from comic specialty stores on comic books shipped during October, see "
Top 300 Comics Actual--October 2011
."
Top 300 GNs -- October 2011

Rank

Index

Title

Price

Pub

Est.Qty

1

3.27

FLASHPOINT HC

$22.99

DC

5,646

2

2.71

WALKING DEAD HC VOL 07 (MR)

$34.99

IMA

4,674

3

2.50

BATMAN ARKHAM CITY HC

$22.99

DC

4,310

4

2.40

UNWRITTEN TP VOL 04 LEVIATHAN (MR)

$14.99

DC

4,144

5

2.04

STAR WARS THE CLONE WARS STRANGE ALLIES TP

$7.99

DAR

3,520

6

1.94

AMERICAN VAMPIRE TP VOL 01 (MR)

$19.99

DC

3,347

7

1.93

WALKING DEAD SURVIVORS GUIDE TP

$12.99

IMA

3,333

8

1.81

ALL STAR SUPERMAN TP

$29.99

DC

3,121

9

1.72

ALAN MOORE NEONOMICON TP (MR)

$19.99

AVA

2,972

10

1.65

ULT COMICS SPIDER-MAN DOSM PREM HC

$24.99

MAR

2,841

11

1.64

DANIEL CLOWES DEATH-RAY HC (MR)

$19.95

DRA

2,832

12

1.60

AXE COP TP VOL 02 BAD GUY EARTH

$12.99

DAR

2,764

13

1.50

CAPTAIN AMERICA TRIAL OF CAPTAIN AMERICA TP

$19.99

MAR

2,583

14

1.49

INVINCIBLE IRON MAN TP VOL 07 MY MONSTERS

$15.99

MAR

2,567

15

1.43

X-23 TP VOL 01 KILLING DREAM

$16.99

MAR

2,474

16

1.35

ULTIMATE COMICS AVENGERS BLADE VS AVENGERS TP

$19.99

MAR

2,327

17

1.31

TWILIGHT MANGA GN VOL 02

$19.99

HAC

2,265

18

1.31

VENOM TP LETHAL PROTECTOR

$16.99

MAR

2,262

19

1.28

FREAKANGELS TP VOL 06 (MR)

$19.99

AVA

2,211

20

1.28

BLADE OF THE IMMORTAL TP VOL 24 MASSACRE

$19.99

DAR

2,208

21

1.28

FANTASTIC FOUR BY JONATHAN HICKMAN TP VOL 04

$19.99

MAR

2,199

22

1.27

WALKING DEAD TP VOL 01 DAYS GONE BYE

$9.99

IMA

2,198

23

1.27

BATMAN THE LONG HALLOWEEN TP

$24.99

DC

2,194

24

1.26

RED HULK PLANET RED HULK TP

$19.99

MAR

2,180

25

1.23

BATMAN LIFE AFTER DEATH TP

$14.99

DC

2,116

26

1.17

SONIC THE HEDGEHOG ARCHIVES TP VOL 16

$7.95

ARC

2,025

27

1.15

SHIELD TP ARCHITECTS OF FOREVER

$19.99

MAR

1,980

28

1.14

BATMAN EYE OF THE BEHOLDER HC

$22.99

DC

1,974

29

1.08

INCORRUPTIBLE TP VOL 05

$16.99

BOO

1,854

30

1.06

GOTHAM CENTRAL TP BOOK 03 ON THE FREAK

$19.99

DC

1,822

31

1.05

GATE 7 TP VOL 01

$10.99

DAR

1,803

32

1.04

YOTSUBA & ! GN VOL 10

$11.99

HAC

1,796

33

1.03

100 BULLETS HC BOOK 01 (MR)

$49.99

DC

1,783

34

1.01

ULTIMATE COMICS X ORIGINS PREM HC

$24.99

MAR

1,736

35

0.97

SONIC THE HEDGEHOG LEGACY VOL 01

$14.95

ARC

1,678

36

0.94

BLACK BUTLER TP VOL 07

$11.99

HAC

1,617

37

0.92

DARK TOWER FALL OF GILEAD TP

$19.99

MAR

1,582

38

0.90

GANTZ TP VOL 19

$12.99

DAR

1,552

39

0.89

SAVAGE SWORD OF KULL TP VOL 02

$19.99

DAR

1,534

40

0.88

WARLORD OF MARS TP

$24.99

DYN

1,521

41

0.87

BATTLE ANGEL ALITA LAST ORDER TP VOL 15

$9.99

VIZ

1,500

42

0.87

MARVEL FIRSTS 1960S TP

$29.99

MAR

1,492

43

0.86

JUSTICE LEAGUE GENERATION LOST HC VOL 02

$39.99

DC

1,491

44

0.86

THOR TRIALS OF LOKI TP

$16.99

MAR

1,480

45

0.86

VAMPIRE KNIGHT TP VOL 13

$9.99

VIZ

1,477

46

0.83

DOCTOR STRANGE TP STRANGE TALES

$29.99

MAR

1,437

47

0.81

WALKING DEAD TP VOL 14 NO WAY OUT (MR)

$14.99

IMA

1,390

48

0.80

FANTASTIC FOUR 1234 PREM HC

$19.99

MAR

1,372

49

0.76

SPIDER-MAN RETURN OF ANTI-VENOM PREM HC

$19.99

MAR

1,316

50

0.76

BIRDS OF PREY HC VOL 02 DEATH OF ORACLE

$24.99

DC

1,307

51

0.75

NEW TEEN TITANS GAMES HC

$24.99

DC

1,300

52

0.75

MMW INCREDIBLE HULK HC VOL 06

$59.99

MAR

1,291

53

0.75

ROSARIO VAMPIRE SEASON II TP VOL 06

$9.99

VIZ

1,290

54

0.74

PUNISHERMAX PREM HC FRANK

$24.99

MAR

1,276

55

0.73

MARZI TP

$17.99

DC

1,265

56

0.73

SOUL EATER TP VOL 07

$11.99

HAC

1,256

57

0.72

WALKING DEAD TP VOL 02 MILES BEHIND US (NEW PTG)

$14.99

IMA

1,238

58

0.71

SUPERMAN BATMAN SORCERER KINGS HC

$22.99

DC

1,232

59

0.71

MMW ATLAS ERA STRANGE TALES HC VOL 05

$64.99

MAR

1,222

60

0.71

MMW AMAZING SPIDER-MAN TP VOL 06

$24.99

MAR

1,219

61

0.70

BLOOM COUNTY COMPLETE LIBRARY HC VOL 05

$39.99

IDW

1,203

62

0.69

BAKUMAN TP VOL 07

$9.99

VIZ

1,189

63

0.68

HARK A VAGRANT HC (MR)

$19.95

DRA

1,181

64

0.68

WARLORD OF MARS DEJAH THORIS TP VOL 01 COLOSSUS OF MARS (MR)

$16.99

DYN

1,172

65

0.67

BATMAN DARK KNIGHT RETURNS TP

$14.99

DC

1,160

66

0.67

WARRIORS THREE TP DOG DAY AFTERNOON

$15.99

MAR

1,158

67

0.67

LEGION OF SUPER HEROES THE CURSE DELUXE ED

$49.99

DC

1,155

68

0.67

PRINCE VALIANT HC VOL 04 1943-1944

$29.99

FAN

1,150

69

0.66

ABSOLUTE IDENTITY CRISIS HC

$99.99

DC

1,141

70

0.66

SUPERMAN MON EL TP VOL 02 MAN OF VALOR

$17.99

DC

1,139

71

0.65

SMURFS GN VOL 08 SMURF APPRENTICE

$5.99

NBM

1,125

72

0.65

WORLD OF WARCRAFT CURSE OF THE WORGEN HC

$22.99

DC

1,124

73

0.64

VICTORIAN UNDEAD II TP SHERLOCK HOLMES VS DRACULA

$14.99

DC

1,112

74

0.64

WOLVERINE WOLVERINES REVENGE PREM HC

$24.99

MAR

1,109

75

0.64

X-MEN CLAREMONT AND LEE OMNIBUS HC VOL 01

$125.00

MAR

1,104

76

0.61

HOLY TERROR HC (MR)

$29.99

LEG

1,058

77

0.61

NAOKI URASAWA 20TH CENTURY BOYS GN VOL 17

$12.99

VIZ

1,054

78

0.61

WITCHBLADE REDEMPTION TP VOL 03

$19.99

IMA

1,053

79

0.60

GREEN LANTERN THE MOVIE PREQUELS TP

$14.99

DC

1,032

80

0.60

DANGER GIRL DLX ED TP

$29.99

IDW

1,029

81

0.59

DISNEY MICKEY MOUSE HC VOL 02 TREASURE ISLAND

$29.99

FAN

1,020

82

0.59

MMW FANTASTIC FOUR TP VOL 07

$24.99

MAR

1,020

83

0.59

CAPTAIN AMERICA RED GLARE PREM HC

$29.99

MAR

1,014

84

0.59

HIGH SCHOOL OF DEAD GN VOL 04 (MR)

$13.99

HAC

1,014

85

0.59

X-MEN X-CUTIONERS SONG HC

$49.99

MAR

1,013

86

0.58

INVADERS NOW TP

$19.99

MAR

1,004

87

0.57

POKEMON ADVENTURES PLATINUM GN VOL 03

$7.99

VIZ

980

88

0.56

BATMAN YEAR ONE DELUXE SC

$14.99

DC

972

89

0.56

SPIDER-MAN COMPLETE BEN REILLY EPIC TP BOOK 02

$39.99

MAR

957

90

0.55

MANARA LIBRARY HC VOL 01

$59.99

DAR

956

91

0.54

X-MEN LEGACY LOST LEGIONS PREM HC

$19.99

MAR

936

92

0.54

GI JOE V2 ONGOING TP VOL 01 COBRA CIVIL WAR

$17.99

IDW

935

93

0.54

GREEN WOMAN TP (MR)

$17.99

DC

932

94

0.53

DARKWING DUCK TP VOL 03 FOWL DISPOSITION

$14.99

BOO

916

95

0.53

NEW X-MEN BY GRANT MORRISON GN TP BOOK 06

$14.99

MAR

907

96

0.52

ANGEL AFTER THE FALL TP VOL 03

$19.99

IDW

900

97

0.51

BLUE EXORCIST GN VOL 04

$9.99

VIZ

888

98

0.51

SPICE AND WOLF GN VOL 05 (MR)

$12.99

HAC

880

99

0.51

SUPERMAN NIGHTWING AND FLAMEBIRD TP VOL 02

$17.99

DC

872

100

0.50

CHEW TP VOL 04 FLAMBE (MR)

$12.99

IMA

869

101

0.50

WALKING DEAD TP VOL 03 SAFETY BEHIND BARS

$14.99

IMA

865

102

0.49

TEZUKA BOOK OF HUMAN INSECTS HC (MR)

21.95

RAN

844

103

0.49

ESSENTIAL FANTASTIC FOUR TP VOL 05

$16.99

MAR

840

104

0.49

OH MY GODDESS RTL TP VOL 19

$11.99

DAR

838

105

0.48

30 DAYS OF NIGHT OMNIBUS TP

$24.99

IDW

830

106

0.48

GREAT NORTHERN BROTHERHOOD CANADIAN CARTOONISTS HC (MR)

$24.95

DRA

826

107

0.48

BLACK METAL GN VOL 02

$11.99

ONI

825

108

0.47

PANDORA HEARTS GN VOL 07

$11.99

HAC

817

109

0.47

DUNGEONS & DRAGONS CLASSICS TP VOL 02

$24.99

IDW

812

110

0.47

FAIRY TAIL GN VOL 15

$10.99

RAN

809

111

0.46

28 DAYS LATER TP VOL 05 GHOST TOWN

$12.99

BOO

799

112

0.46

SHERLOCK HOLMES YEAR ONE TP

$19.99

DYN

789

113

0.45

X-FACTOR HARD LABOR PREM HC

$19.99

MAR

780

114

0.45

SPIDER-MAN DEADLY FOES OF SPIDER-MAN TP

$24.99

MAR

774

115

0.45

WALKING DEAD COMPENDIUM TP VOL 01 (MR)

$59.99

IMA

770

116

0.44

BRIDE OF THE WATER GOD TP VOL 09

$9.99

DAR

767

117

0.44

COMPLETE CHESTER GOULDS DICK TRACY HC VOL 12

$39.99

IDW

762

118

0.44

TENJO TENGE GN VOL 03 (MR)

$17.99

VIZ

761

119

0.44

NEW MUTANTS PREM HC UNFINISHED BUSINESS

$19.99

MAR

751

120

0.43

BATMAN HUSH COMPLETE TP

$24.99

DC

747

121

0.43

ARCHIE OBAMA & PALIN IN RIVERDALE TP

$12.95

ARC

745

122

0.43

BLACKEST NIGHT TP

$19.99

DC

742

123

0.43

SCIENCE DOG OVERSIZED HC

$19.99

IMA

740

124

0.43

MORNING GLORIES TP VOL 02

$12.99

IMA

738

125

0.43

PHINEAS & FERB EARLY COMIC READER #6 BEAK STRIKES

$4.99

HAR

736

126

0.43

WALKING DEAD TP VOL 04 HEARTS DESIRE (NEW PTG)

$14.99

IMA

736

127

0.42

BATMAN THE KILLING JOKE SPECIAL ED HC

$17.99

DC

729

128

0.42

WALKING DEAD TP VOL 13 TOO FAR GONE (MR)

$14.99

IMA

726

129

0.42

MORNING GLORIES TP VOL 01 FOR A BETTER FUTURE

$9.99

IMA

725

130

0.42

TRANSFORMERS CLASSICS UK TP VOL 01

$29.99

IDW

722

131

0.41

GI JOE OMNIBUS TP VOL 01

$24.99

IDW

706

132

0.41

CHI SWEET HOME GN VOL 07

$13.95

RAN

705

133

0.40

WALKING DEAD TP VOL 05 BEST DEFENSE (NEW PTG)

$14.99

IMA

689

134

0.40

ALAN MOORE NEONOMICON HC (MR)

$27.99

AVA

687

135

0.40

FANTASTIC FOUR BY WAID & WIERINGO ULT COLL TP BOOK 03

$24.99

MAR

683

136

0.40

ROGER LANGRIDGE THE SHOW MUST GO ON TP

$19.99

BOO

683

137

0.39

CHEW TP VOL 01 (MR)

$9.99

IMA

680

138

0.39

100 BULLETS TP VOL 01 FIRST SHOT LAST CALL

$9.99

DC

676

139

0.39

DAKEN DARK WOLVERINE PREM HC BIG BREAK

$19.99

MAR

669

140

0.38

ARCHIE AMERICANA HC VOL 02 BEST OF THE 50S (IDW)

$24.99

IDW

648

141

0.38

BILLY MAJESTIC HUMPTY DUMPTY TP

$14.99

IDW

648

142

0.38

ANITA BLAKE VH GUILTY PLEASURES ULT COLL TP (MR)

$34.99

MAR

647

143

0.37

AMELIA RULES TP VOL 07 MEANING OF LIFE

$10.99

POC

641

144

0.37

WALKING DEAD TP VOL 09 HERE WE REMAIN (MR)

$14.99

IMA

638

145

0.36

WALKING DEAD TP VOL 11 FEAR THE HUNTERS (MR)

$14.99

IMA

624

146

0.36

ARCHIE BEST OF HARRY LUCEY HC VOL 01

$24.99

IDW

621

147

0.36

NINJA GIRLS GN VOL 07 (MR)

$10.99

RAN

620

148

0.36

WATCHMEN TP

$19.99

DC

619

149

0.36

WOLVERINE BY JASON AARON OMNIBUS HC VOL 01

$99.99

MAR

619

150

0.36

PSYREN GN VOL 01

$9.99

VIZ

618

151

0.36

WALKING DEAD TP VOL 06 SORROWFUL LIFE (MR)

$14.99

IMA

618

152

0.36

CODE GEASS QUEEN GN VOL 03

$10.99

BAN

617

153

0.36

VAMPIRELLA MASTERS SERIES TP VOL 06 JAMES ROBINSON

$16.99

DYN

616

154

0.36

SCOTT PILGRIM GN VOL 01 PRECIOUS LITTLE LIFE

$11.99

ONI

614

155

0.36

SAILOR MOON TP KODANSHA ED VOL 01

$10.99

RAN

613

156

0.35

DUCKTALES RIGHTFUL OWNERS TP

$14.99

BOO

608

157

0.35

HIGURASHI WHEN THEY CRY GN VOL 15 ATONEMENT ARC PT 1

$11.99

HAC

604

158

0.35

HAPPINESS IS A WARM BLANKET CHARLIE BROWN TP

$9.99

BOO

601

159

0.35

STAR GAZING DOG GN

$11.99

NBM

600

160

0.35

SANDMAN TP VOL 01 PRELUDES & NOCTURNES NEW ED (MR)

$19.99

DC

597

161

0.35

TEZUKAS BLACK JACK TP VOL 16

$16.95

RAN

597

162

0.35

DO ANDROIDS DREAM OF ELECTRIC SHEEP HC VOL 06

$24.99

BOO

596

163

0.35

FABLES TP VOL 01 LEGENDS IN EXILE

$12.99

DC

596

164

0.34

DARKWING DUCK TP VOL 01 DUCK KNIGHT RETURNS

$14.99

BOO

592

165

0.34

TINTIN YOUNG READERS ED GN BROKEN EAR

$8.99

HAC

587

166

0.34

RAGE AFTER THE IMPACT TP

$10.99

DAR

586

167

0.34

WALKING DEAD TP VOL 12 LIFE AMONG THEM

$14.99

IMA

583

168

0.34

UMBRELLA ACADEMY TP VOL 01 APOCALYPSE SUITE

$17.99

DAR

581

169

0.34

FABLES TP VOL 15 ROSE RED (MR)

$17.99

DC

580

170

0.33

DC SUPER-PETS YR TP HEROES O/T HIGH SEAS

$4.95

CAP

574

171

0.33

IRON AGE HC

$29.99

MAR

572

172

0.33

LOCKE & KEY TP VOL 01 WELCOME TO LOVECRAFT

$19.99

IDW

567

173

0.33

WALKING DEAD TP VOL 10 WHAT WE BECOME

$14.99

IMA

562

174

0.32

WALKING DEAD TP VOL 08 MADE TO SUFFER (MR)

$14.99

IMA

557

175

0.32

V FOR VENDETTA NEW EDITION TP (MR)

$19.99

DC

552

176

0.32

UNCANNY X-FORCE TP VOL 01 APOCALYPSE SOLUTION

$15.99

MAR

549

177

0.32

FARSCAPE TP VOL 05 RED SKY AT MORNING

$12.99

BOO

547

178

0.32

SKIP BEAT TP VOL 25

$9.99

VIZ

547

179

0.32

DR HORRIBLE TP

$9.99

DAR

544

180

0.31

BATWOMAN TP VOL 01 ELEGY

$17.99

DC

533

181

0.31

ART OF COMIC BOOK INKING TP VOL 01

$29.99

DAR

530

182

0.31

MMW GOLDEN AGE MARVEL COMICS HC VOL 06

$59.99

MAR

530

183

0.30

BLEACH 3-IN-1 ED VOL 03

$14.99

VIZ

518

184

0.30

WALKING DEAD TP VOL 07 THE CALM BEFORE

$14.99

IMA

517

185

0.30

ZOMBIES VS ROBOTS UNDERCITY HC

$24.99

IDW

516

186

0.30

FULLMETAL ALCHEMIST 3-IN-1 ED VOL 03

$14.99

VIZ

515

187

0.30

CHIP N DALE RESCUE RANGERS TP SLIPPIN THROUGH THE CRACKS

$14.99

BOO

513

188

0.30

ARCHIE ARCHIVES HC VOL 03

$49.99

DAR

512

189

0.29

NEW WARRIORS CLASSIC TP VOL 03

$24.99

MAR

506

190

0.29

HABIBI GN (MR)

$35.00

RAN

503

191

0.29

FROM MARVEL VAULT TP

$14.99

MAR

500

192

0.29

ARKHAM ASYLUM ANNIVERSARY ED SC (MR)

$17.99

DC

495

193

0.29

IMMORTALS GODS AND HEROES HC (MR)

$19.95

ARA

493

194

0.28

CTHULHU TALES OMNIBUS MADNESS TP

$19.99

BOO

480

195

0.28

POWER LUNCH GN VOL 01

$12.99

ONI

478

196

0.28

BOYS TP VOL 08 HIGHLAND LADDIE

$19.99

DYN

477

197

0.28

SAYONARA ZETSUBOU SENSEI GN VOL 11

$10.99

RAN

477

198

0.27

CHEW TP VOL 03 JUST DESSERTS (MR)

$12.99

IMA

465

199

0.27

SKETCH MONSTERS HC VOL 01

$12.99

ONI

460

200

0.26

WALLFLOWER GN VOL 26 (MR)

$10.99

RAN

456

201

0.26

JOKER HC

$19.99

DC

452

202

0.26

NEGIMA OMNIBUS GN VOL 02 (MR)

$19.99

RAN

451

203

0.26

ABSOLUTE ALL STAR SUPERMAN HC

$99.99

DC

450

204

0.26

WOLVERINE OLD MAN LOGAN TP

$29.99

MAR

445

205

0.26

ZOMBIES VS CHEERLEADERS TP

$16.95

MOO

441

206

0.26

SAKURA HIME LEGEND OF PRINCESS SAKURA GN VOL 04

$9.99

VIZ

440

207

0.25

SPACE FAMILY ROBINSON ARCHIVES HC VOL 02

$49.99

DAR

438

208

0.25

EYESHIELD 21 TP VOL 37

$9.99

VIZ

435

209

0.25

NURA RISE O/T YOKAI CLAN GN VOL 05

$9.99

VIZ

434

210

0.25

TUROK SON OF STONE ARCHIVES HC VOL 09

$49.99

DAR

432

211

0.25

BRIDES STORY HC GN BOOK 02

$16.99

HAC

431

212

0.25

BOYS TP VOL 01 NAME OF THE GAME (MR)

$16.99

DYN

430

213

0.25

NUTS HC

$19.99

FAN

428

214

0.25

CHEW TP VOL 02 INTERNATIONAL FLAVOR (MR)

$12.99

IMA

423

215

0.24

FRANK BOOK SC

$34.99

FAN

421

216

0.24

CIVIL WAR TP

$24.99

MAR

420

217

0.24

Y THE LAST MAN TP VOL 01 UNMANNED

$14.99

DC

420

218

0.24

STAN LEE SOLDIER ZERO TP VOL 02

$14.99

BOO

416

219

0.24

UNDERWIRE GN

$9.95

TOP

408

220

0.24

DROPS OF GOD VOL 01

$14.95

RAN

407

221

0.24

LOEG III CENTURY #2 1969 (MR)

$9.95

TOP

407

222

0.24

DISNEY MICKEY MOUSE BOX SET VOL 01 & 02

$49.99

FAN

406

223

0.24

STAN LEE TRAVELER TP VOL 02

$14.99

BOO

406

224

0.23

HELLBOY TP VOL 11 BRIDE OF HELL & OTHERS

$19.99

DAR

403

225

0.23

ZORRO TP VOL 03 TALES OF THE FOX

$19.99

DYN

401

226

0.23

KEEP HC

$24.99

IDW

400

227

0.23

ZOMNIBUS GN VOL 02

$24.99

IDW

400

228

0.23

NURSERY RHYME COMICS 50 TIMELESS RHYMES HC

$18.99

ST.

395

229

0.23

ALL GHOUL SCHOOL GN

$19.99

IDW

394

230

0.23

KAMISAMA KISS TP VOL 05

$9.99

VIZ

392

231

0.23

AFTERSCHOOL CHARISMA TP VOL 04

$12.99

VIZ

390

232

0.23

KINGDOM COME TP NEW EDITION

$17.99

DC

389

233

0.23

ORCS GN VOL 01 FORGED FOR WAR

$17.99

ST.

389

234

0.22

DRACULA COMPANY OF MONSTERS TP VOL 03

$12.99

BOO

386

235

0.22

JUDGE DREDD COMPLETE CASE FILES TP VOL 18

$35.99

DIA

385

236

0.22

ARKHAM ASYLUM MADNESS TP

$14.99

DC

381

237

0.22

SCOTT PILGRIM GN VOL 02 VS THE WORLD

$11.99

ONI

381

238

0.22

WALKING DEAD HC VOL 01 (MR)

$34.99

IMA

381

239

0.22

FABLES TP VOL 02 ANIMAL FARM

$12.99

DC

379

240

0.22

BEST AMERICAN COMICS HC 2011

$25.00

HOU

377

241

0.21

BATMAN RIP TP

$14.99

DC

370

242

0.21

CASTLE PREM HC RICHARD CASTLES DEADLY STORM

$19.99

MAR

370

243

0.21

SUPERMAN RED SON TP

$17.99

DC

367

244

0.21

METABARONS ULTIMATE COLL SLIP CASE (MR)

$129.95

HUM

366

245

0.21

GON GN KODANSHA ED VOL 02

$10.99

RAN

365

246

0.21

THE CABBIE HC VOL 01 (MR)

$19.99

FAN

363

247

0.21

BRIGHTEST DAY HC VOL 03

$29.99

DC

362

248

0.21

CLASSIC JURASSIC PARK TP VOL 03 AMAZON ADVENTURE

$19.99

IDW

361

249

0.21

LOCKE & KEY TP VOL 02 HEAD GAMES

$19.99

IDW

360

250

0.21

NATSUMES BOOK OF FRIENDS TP VOL 09

$9.99

VIZ

359

251

0.21

GREEN LANTERN BRIGHTEST DAY HC

$22.99

DC

355

252

0.21

BATMAN KNIGHTFALL TP PART 01 BROKEN BAT

$19.99

DC

354

253

0.21

PREACHER TP VOL 01 GONE TO TEXAS NEW EDITION (MR)

$17.99

DC

354

254

0.20

BATMAN DARK VICTORY TP

$19.99

DC

350

255

0.20

Y THE LAST MAN TP VOL 02 CYCLES (MR)

$12.99

DC

347

256

0.20

STAR WARS OMNIBUS EPISODES I-VI COMP SAGA TP

$24.99

DAR

341

257

0.20

UMBRELLA ACADEMY TP VOL 02 DALLAS

$17.99

DAR

341

258

0.20

CROSS GAME TP VOL 05

$14.99

VIZ

339

259

0.20

HELLBLAZER TP VOL 01 ORIGINAL SINS NEW ED (MR)

$19.99

DC

337