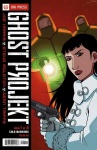 Syfy announced that it has put a TV show based on Ghost Projekt, the Oni Press comic miniseries, into development with CBS TV Studios. The announcement was part of a slate of three new shows announced Wednesday; it was the only show based on a previously existing property.
Brett Matthews is listed as writer and executive producer. He has been executive story editor for 21 episodes of Supernatural, and made his bones as assistant to Joss Whedon on Buffy, Angel, and Firefly.
Ghost Projekt was written by Joe Harris, with art by Steve Rolston and colors by Dean Trippe. It tells the story of a female KGB agent and a male American weapons inspector who work together when a deadly weapon from a Siberian research facility falls into the hands of thieves.