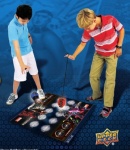 Upper Deck will launch Slingers, a new collectible game featuring Marvel characters, for the holidays. It will appear first in on the Upper Deck Website and in Toys R Us in late November, and ship to hobby stores in December.
The game features a Slinger, which works somewhat like a yo-yo with a patented retractable mechanism and an "Invisible Energy Shield" that allows players to pick up collectible medallions, which will feature Marvel characters. If players sling too hard, the Slinger will hit the ground, for which the device will deduct points and potentially lives from the player. If they sling too soft, they won't be able to pick up the medallions.
There are several game formats for players at different ages and skill levels: Quick Draw, High Score, Face Off, Sniper, Slingers Solitaire, Smash 'Em, and more.
Medallions will have different rarity levels and point values, and are seeded at different ratios within packs. There are a total of 84 different medallions:
30 Common
30 Uncommon
12 Rare
12 Super Rare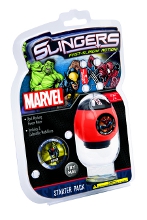 The game will be sold in three SKUs.
Starter Packs
($14.99) will include one of six Slingers game units, three collectible medallions and a game play manual.
Blister Packs
($14.99) will include ten medallions, including one Super Rare medallion.
Battle Packs
($27.99), which will be sold exclusively on the Upper Deck Website beginning this week and in hobby stores in December (no TRU sales) will include two Marvel Slingers, six medallions (including one Rare), a game manual and a full color playmat.