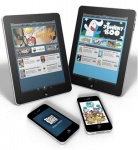 Here's the latest on the digital comics front, from Monday, November 14th. The biggest announcement of the day came from Top Shelf Productions, which launched a wide-ranging digital strategy centered around two new iOS apps from comiXology: Top Shelf Productions, and Top Shelf Kids Club. Top Shelf titles will also be available through comiXology, Graphicly, iVerse, Apple iBooks, and Google Books, with more platforms to come including the Nook, Kindle Fire, and the Diamond Digital program for sales through comic stores.
Top Shelf is sale pricing five key titles, including League of Extraordinary Gentlemen: 1910, Owly Book 1, Johnny Boo Book 1, Clumsy, and The Surrogates at $1.99 for the first week on sale in digital form.
Digital Manga has launched iOS and Android apps which will allow readers to purchase and read digital versions of manga titles published by Digital Manga. DMP previously released a Vampire Hunter D app, which offered manga from that property on the iOS and Android platforms.
Graphicly has announced that its Android app will be available on the Kindle Fire.
Graphicly is adding Gen Manga, a publisher of doujin manga from Japan, to its digital stores. The first releases will be a 900-page anthology for $2.99 and VS Aliens, a complete series, for $.99.