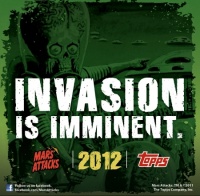 Topps has announced details of a major product and licensing program to relaunch
Mars Attacks
in 2012, in honor of the 50th anniversary of the trading card series that launched the property. An initial roster of ten licensees has been announced. The series, the most valuable non-sports card series ever, will be the subject of a
Mars Attack
comic series from IDW Publishing, and of an art book from Abrams Comicarts (see "
Mars Attacks
"). Other licensees announced today include Funko (bobble heads, vinyl dolls); Gelaskins (electronic skins); Impact Merchandising (t-shirts); Incogneato (costumes); Mezco Toyz (action figures, plush); Moebius Models (model kits); Quarantine Studios (statues); and 10Again Clothing (apparel).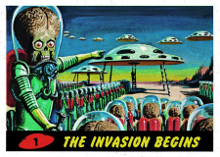 Topps will release an anniversary commemorative edition of
Mars Attacks
trading cards, which will include both high quality reprints of the original cards plus new images. A full set of the original series is valued at tens of thousands of dollars, with individual cards worth hundreds of dollars each. The original art is also valued highly; the painting for the first card, "The Invasion Begins," was recently auctioned for $90,000.
Topps plans Mars Attacks as a multi-year program, with expanding retail presence and product offerings. New storylines and characters from the comics and cards will be incorporated into a full franchise reboot in 2013.