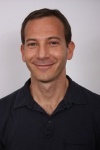 Gareb Shamus, founder of
Wizard Magazine
, has resigned as CEO/President of Wizard World effective last Thursday. Shamus launched
Wizard
in 1991 and the slickly produced magazine with its mix of price guides, full color previews, and breathless enthusiasm was inextricably bound up with the mainstream comics boom of the early 1990s.
Wizard
survived the implosion of the 1990s comics boom, but was unable to overcome the consistent erosion of the public's interest in comics and pop culture-related print publications over the past decade (see "
The Death of Magazines On Geek Culture
").
By the time that
Wizard
print magazines finally gave up the ghost in early 2011 (see "
R.I.P Wizard and & ToyFare Print Publications
"), Shamus, after an earlier attempt to take his organizational skills to the highly competitive world of mixed martial arts, had long since devoted the majority of his efforts to staging the Wizard World pop culture events. In early 2011 Shamus took Wizard World public through a reverse merger (see "
Gareb Shamus: The ICv2 Interview
").
The new company attempted to keep the
Wizard Magazine
concept going online, but declining ad revenues in the highly competitive world of online comic-related publications soon reduced the editorial content online version of
Wizard
to a blog written by Shamus (which has recently disappeared altogether—visitors are now greeted with the pro forma message "Sorry the page you are looking for could not be found"). Retrenchment came on the exhibition side as well. Last August Wizard World announced that it was scaling back its offerings to just eight annual events (see "
Wizard World Cuts Back to 8 Shows
"), and the handwriting was on the wall.
Shamus' terse letter of resignation, which was included with
documents
filed by Wizard World with the SEC, simply stated: "I hereby resign my positions as President, Chief Executive Officer and Director of Wizard World, Inc. (the "Company") effective immediately. The resignation is not the result of any disagreement with the Company on any matter relating to the Company's operations, policies or practices."