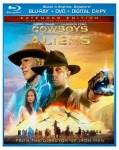 This week's DVD offerings include Cowboys & Aliens, a high-concept comic book-based movie that Universal is hoping will find the success that eluded it in the theaters on DVD, plus the hugely successful raunchy R-rated comedy sequel The Hangover, Part II, and a plethora of animated TV on DVD releases led by The Simpsons and SpongeBob SquarePants.
Theatrical Movies
The pace of releases picks up this week as the holidays draw near. In a close race the winner could be anyone of a trio of films led by The Hangover Part II (Warner Home Video, "R," $28.98, BD $35.99), the popular sequel, which was the highest-grossing R-rated comedy of a summer filled with successful raunchy laugh fests. The first Hangover movie brought outrageous action to the buddy comedy genre with a combination of serious over indulgence and quirky characters. The Hangover Part II replicated the formula of the first film so exactly (though changing the setting from Las Vegas to Bangkok) that the critics hated it (only 35% positive on Rotten Tomatoes), but audiences loved it(the film earned $581 million worldwide).
Genre fans will probably be more excited about Cowboys & Aliens (Universal, "PG-13," $29.98, BD/Combo $34.98), the genre-melding tentpole that was one of this summer's major box office disappointments earning $174 million worldwide versus a cost of at least $163 million. In spite of a proven director (Iron Man's Jon Favreau), top talent in front of (Daniel Craig, Harrison Ford, Sam Rockwell) and behind (writers Mark Fergus, Alex Kurtzman, Damon Lindelof, and Roberto Orci) the camera, Cowboys & Aliens failed to hit the mark with audiences, and may have set the "western" genre in Hollywood back ten years. Still science fiction and adventure movie fans will find much to enjoy in this film that moves right along while managing to avoid "camp," but still never taking itself too seriously.
On the more serious side is The Debt (Universal, "R," $29.98, BD $34.98) about three retired Mossad agents who reflect on their careers as a controversy erupts over their kidnapping of a Nazi war criminal during the 1960s. This is a serious adult drama filled with moral ambiguity and insights about the ways in which the truth gets twisted over the years.
TV on DVD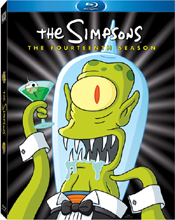 This week sees a plethora of animated releases led by
The Simpsons: The Complete 14th Season
(Fox, 482 min., $49.98, BD $59.98), which includes 22 episodes from the most recent season of the longest running and by far the best prime time animated series on American TV, plus there are bonus "Treehouse of Horror" episodes (on the BD)--who could ask for anything more?
Younger viewers will certainly enjoy SpongeBob SquarePants Season 7 (Paramount, 572 min, $26.99), which includes 26 episodes of the popular Nickelodeon series on four discs.
An offering with a strong appeal to tween viewers is Transformers Prime (Shout Factory, 115 min., $14.97), a single disc release that collects 5 episodes of the most recent Transformers series. Other single-disc animated offerings include Alvin and the Chipmunks: Driving Dave Crazy (Bagdasarian, 73 min., $14.99), and The Looney Tunes Show: Season 1, Vol.2 (Warner Bros., 110 min., $14.98).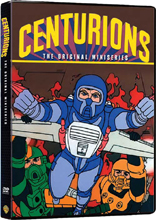 But the most interesting single-disc animated release is
The Centurions: The Original Miniseries
(Warner Home Video, 110 min., $19.95), which collects the five-part miniseries from 1985 that was animated by anime powerhouse Sunrise (for Ruby-Spears) and featured character designs by Jack Kirby and Gil Kane.
Ben 10: Ultimate Alien Vol. 4: The Wild Truth (Warner Bros., 265 min., $19.98) collects 12 episodes of the third incarnation of popular series created by the Man of Action studio. The 52-episode Ultimate Alien series was created by Dwayne McDuffie (Static) and Glen Murakami in association with Man of Action.
Also due this week is Voltron: Defender of the Universe Black Lion Collection (MVD, 325 min., $12.95), a low-priced set of material originally released in 2007 by Media Blasters.
For really young viewers there is Clifford the Big Red Dog: Big, Big Collection (Lionsgate, 578 min., $29.98), which contains 50 episodes of the PBS Kids series based on the children's book series by Norman Bridwell. Another children's book that was made into an animated series is Eric Rohmann's My Friend Rabbit (Well Go USA, 286 min., $24.98), a sensitive series for younger kids, which debuted on NBC in 2007.
Also targeting the same demo, but not recommended for those with already high blood sugar, is The Care Bears: Super Cuddly Collection (Lionsgate, 505 min., $29.98), a box set containing six discs of high fructose animation.
Modern live action series of note this week include the hip and entertaining Portlandia (VSC, 132 min., $16.95, BD $26.95), which features SNL's Fred Armisen and Carrie Brownstein from Sleater-Kinney in a fascinating sketch comedy show that grew out of their Internet videos. Also due this week is the polygamy-based Big Love: The Complete 5th Season (HBO, 600 min., $59.99) as well as Big Love: The Complete Series (HBO, 3180 min., $199.95), which includes all 5 seasons of the series about a modern-day polygamist who lives in suburban Salt Lake City.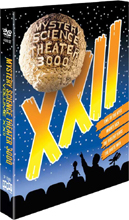 Those who love campy cut-ups have two offerings this week headed by
Mystery Science Theater 3000: XXII
(Shout Factory, 640 min., $59.97), which includes two of the most requested episodes of the series,
Mighty Jack
and
Time of the Apes
, two "movies" that began their entertainment lives as Japanese TV series, plus two more films,
The Violent
Years
and
The Brute Man
, which never would have had a chance of production if the cinema had an immune system.
The equally campy TV horror hostess Elvira is now packaging her syndicated efforts on DVD. Elvira's Movie Macabre: Santa Claus Conquers the Martians/Beast From Haunted Cave (E1 Entertainment, 181 min., $14.98) provides seasonal appeal with a camp classic featuring a take-no-prisoners Santa along with a look at one of Roger Corman's weaker efforts in which a group of gangsters defend a ski lodge from a snow monster.
Vintage TV releases this week include Going My Way: The Complete Series (Timeless Media, 1500 min., $49.98), a 1962 series starring Gene Kelly in the role Bing Crosby made famous in the 1940s movie, the vintage western The Tall Man: The Complete Series (Timeless Media, 1875 min., $49.98), plus I'm Dickens, He's Fenster: 50th Anniversary Collector's Edition Volume 1 (TV Time Machine, 788 min. $29.95), which includes 16 episodes of the fondly remembered 1960s sitcom that ran on ABC in 1962-1963, and The Lucy Show: The Official 5th Season (Paramount, 582 min., $38.99).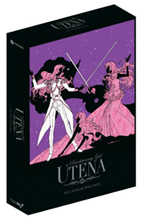 The top U.K. release this week is
The Sarah Jane Adventures: The Complete Fourth Season
(Warner Bros., 360 min., $29.98), which features the exploits of former
Doctor Who
companion, Sarah Jane, and her gang of youngsters in a clever science fiction series created by Russell T. Davies (
Doctor Who
), who wrote two of the 12
Season 4
episodes. Matt Smith, the Eleventh Doctor, makes his appearance in a rip-snorting episode that features bizarre vulture aliens.
One other foreign release merits mention, Underbelly: The Trilogy (E1 Entertainment, 1755 min., $99.99), a 12-disc set that includes 39 episodes of the gritty, explicit, and violent Australian crime series that is based on actual events and depicts the crime wave that rocked the country from the 1970s to the early years of this century.
Anime
There are quite a few releases this week, but only a couple of new offerings. Rozen Maiden Overture (Sentai Filmworks, "14+," 50 min., $29.98) includes both episodes of a TV special produced by Nomad in 2006 that features a flashback to Victorian London. Sentai is also releasing a Rozen Maiden Complete Collection (Sentai Filmworks, "14+," 650 min., $49.98), which contains the Overture OVAs as well as the first two Rozen Maiden anime series. Mazinkaiser SKL (Media Blasters, "14+," 75 min. $24.99) is a 3-episode OVA series, which was spun off from Go Nagai's Mazinkaiser, which was a spin-off of Nagai's groundbreaking 1970s robot series Mazinger. The Mazinkaiser SKL OVA was produced by Actas in 2011 and features enough mecha action to please the most ardent fans of the genre.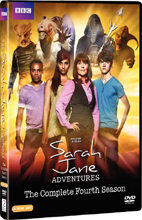 But this week's best offerings have all been released here before in some manner or another. Right Stuf is continuing its excellent refurbishing of the groundbreaking
yuri
anime saga
Revolutionary Girl Utena
.
Utena, Revolutionary Girl Set 3: Apocalypse Saga
(Right Stuf, "16+," 460 min., $79.99) includes episodes 25-39 plus the
Adolescence of Utena
movie and content from the recent limited-edition Japanese box set as well as the third and final installment of production notes from the Japanese laser disc release.
Other re-releases of interest include Birdy the Mighty Decode: The Complete Series (Funimation, "17+," 650 min., $69.98), which all 26 of the episodes, which were previously released in two parts (at $59.98 each). Two seasons of this rollicking sci-fi comedy, which features a gorgeous crime-fighting protagonist, were produced by A-1 Pictures and aired in Japan in 2008 and 2009. Equally interesting to some are the video game-based Devil May Cry Complete Series (Funimation, "17+," 300 min., $29.98, BD $34.98), the perennially popular Dragon Ball Z Movie Collection 2 (Funimation, "13+," 240 min., $29.98), which includes DBZ movies 6-9, and the Master of Martial Arts Complete Set (Funimation, "17+," 110 min., $24.98).