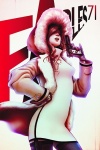 DC Comic's Vertigo imprint is debuting four new series in March and offering retailers an additional 15% discount on all copies of the initial issues of these four series ordered before the Final Order Cutoff date. The four series include the Fables spin-off Fairest, Paul Cornell's highly original mix of UFOs and politics, Saucer Country, Dominque Laveau: Voodoo Child, a new ongoing series for the character, and the Dan Abnett-penned The New Deadwardians, a high-concept, Edwardian-era exercise in class warfare in which the rich become vampires in order to protect themselves from the poor, who are all zombies.
With its
Fables
pedigree
Fairest
appears to be the surest bet (see "
Fables Spin-Off: Fairest
"), especially because the first six-issues will be penned by
Fables
creator Bill Willingham with art by Phil Jimenez and Andy Lanning and covers by Adam Hughes. This is a high concept anthology series with story arcs that will rotate between various fetching female fairytale characters like Sleeping Beauty, Rapunzel, Cinderella, etc. Creative teams will also shift with the story arcs, which adds other elements of uncertainty to the series' long term prospects, but which could also keep it fresh and interesting.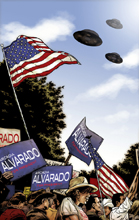 Cornell's
Saucer Country
is yet another high concept title with a touch of the bizarre. Its protagonist, Arcadia Alvarado is a leading democratic presidential candidate, but she's been abducted by aliens (see "
Vertigo Announces Paul Cornell's Saucer Country
"). How does she manage to get elected and then lead the charge against the alien menace? Ryan Kelly provides both the interior art and a cover, while Sean Murphy is creating a 1:10 variant cover.
Denys Cowan and John Floyd will provide the art for Dominque Laveau: Voodoo Child, which is written by Selwyn Sefu Hinds. Rafael Grampa is creating the cover with Denys Cowan providing a 1:10 variant. By rights she's the Voodoo Queen of New Orleans, but Dominque Laveau is going to have to fight hard to gain and maintain her throne.
The New Deadwardians features art and a cover by I.N.J. Culbard with 1:10 variant cover by Cliff Chiang. The hero of the series is a policeman, who is one of the few living human left. But what's the role of a homicide detective in a world where almost everybody is already dead?