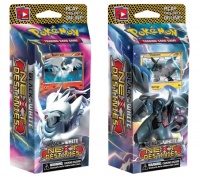 The next expansion for the Pokemon TCG Black & White series will be released by Pokemon Company International in February 2012. The new set will feature new advanced powers and includes more than 100 new Pokemon cards.
Next Destinies will be the first TCG expansion to include Pokemon from beyond the Unova region, including the "MewTwo-EX," "Reshiram-EX," and "Zekrom-EX" monsters. Six "EX" cards in total will be included in the set, between the two theme decks and the booster packs. These special cards will have character art covering the entire card and a new etching style not used for TCGs before.
Pokemon-EX creatures are more powerful versions of Pokemon, but introduce more risk when played.
The new series will be available in two different theme decks, both with a suggested retail price of $11.99. The theme decks are ready-to-play and built around the Reshiram and Zekrom pokemon.
There will also be booster packs with a suggested retail price of $3.99. The booster packs will be packaged with one of four different cover images.
Each theme deck and booster pack includes a code that can be used to unlock virtual cards for online play.