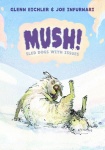 Mush!: Sled Dogs with Issues TP
Publisher: First Second
Release Date: December 2011
Price: $17.99
Creator(s): Glenn Eichler and Joe Infurnari
Format: 128 pgs.; Color; Trade Paperback
ISBN: 978-1-59643-457-8
Age Rating: 16+
ICv2 Rating: 3 Stars out of 5
The dog pack is in chaos. Buddy just wants to mate with Venus. Venus just wants Buddy to leave her alone. Dolly isn't sure that she's meant to be lead dog. Guy wants to be lead dog and will do anything, even tricking Winston, to get the post. And Fiddler marches to his own tune. Meanwhile the Boss and the Boss's Mate are having their own problems coping with the stress of maintaining a relationship while miles away from civilization. It too bad that all problems can't be solved by running, because running is when everyone is truly happy.
Eichler takes the familiarity of a group of people trapped together for long periods of time and play with it by telling their tale mostly from the perspective of a pack of sled dogs. Think
The Office
, but with more snow and fur. And because they have a clear understanding of how both people--and dogs--handle politics, it works. Readers will identify with at least one of the dogs. Smart, frustrated Venus is the most likely candidate, though free-spirit Fiddler, angsty Dolly, and dopey Buddy are all likeable characters too. Guy and Winston's egos will be familiar as well and their eventual comeuppance is satisfying.
Infurnari uses a loose, thin-lined, but still highly detailed style that makes even small moments seem dramatic, a nice touch for a story mostly about small moments. There is some dramatic action, a touch of violence, and some blunt language, but otherwise this is a good choice for either adult or older teen collections. The happy ending will reassure jittery readers who usually avoid dog stories for fear of a bitter end.
--Snow Wildsmith: Writer and former teen librarian and ALA/YALSA committee member.