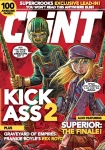 In a bold packaging of new plans from Mark Millar, "Millarworld Week," which begins January 9 on CBR, is being promoted with the tag line "The Big Two Just Became the Big Three." In addition to comics previews and news, Millarworld Week will also include announcements about TV and film projects.
The first comic property to get a big push is Millar creation Supercrooks, with art by Leinil Francis Yu. "Supercrooks is about a bunch of supervillains who head to Spain for one last heist," Millar said of the property. It has been optioned for a feature film by Universal with Spanish director Nacho Vigalondo attached to produce, co-write, and direct.
Supercrooks
preview pages will be released online in January, and the first story, a short in-continuity prequel, will appear in Millar's magazine
CLiNT
(see "
Millar Launching UK Comics Mag
") #15, streeting March 28. The 100-page anthology magazine carries an MSRP of $6.99.
Other properties planned for previews during Millarworld week in January include Millar and Dave Gibbons' The Secret Service, an untitled collaboration with Frank Quitely, and the future of Millar and Romita Jr.'s Kick-Ass.