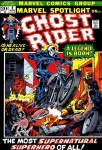 A judge has ruled for Marvel and against Gary Friedrich on the question of who owns the Ghost Rider character. Friedrich filed suit in 2007 (see "
Gary Friedrich Sues Marvel Over 'Ghost Rider'
"), alleging that he had ownership interests in the character. This ruling was on that issue; the parties were ordered to meet with the judge in January to review any open claims and/or counter-claims.
Federal District Judge Katherine B. Forrest ruled that even if the original work (the origin of the new Ghost Rider character was in Marvel Spotlight #5, published in 1971), was not "work for hire," Freidrich transferred his rights in the character on two subsequent occasions in 1971 and 1978.
The 1971 transfer was accomplished when Friedrich endorsed his freelancer checks, which carried an "assignment legend" on the back assigning Marvel any rights in return for the check. The 1978 transfer was in the form of a contract, in which Friedrich relinquished any past rights in exchange for future freelance work.
Various arguments on invalidating the agreements were put forth by Friedrich's counsel; all were rejected. Among the arguments rejected was Friedrich's argument that he understood after conversations with Stan Lee and Roy Thomas in advance of creating the character that he would retain non-comic rights. But no-one (including Friedrich) suggested that the topic was discussed, and the later paperwork did not agree with Friedrich's memory, so the judge rejected the argument.
Another rejected argument was that Marvel hadn't come through with the freelance work after the 1978 agreement, so since nothing had been paid the contract should be voided. But Friedrich admitted in deposition that he had been an alcoholic and unreachable for a year after the contract was signed, so Marvel would have been unable to assign him work.
So the judge's decision came down to those agreements. "Either one of those contractual transfers would be sufficient to resolve the question of ownership," Forrest said in her ruling. "Together, they provide redundancy to the answer that leaves no doubt as to its correctness."