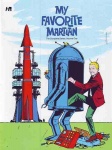 My Favorite Martian The Complete Series Volume One HC
Publisher: Hermes Press
Release Date: December 2011
Price: $49.99
Creator(s): Paul S. Newman, Russ Manning, Dan Spiegel, Sparky Moore and Mike Arens
Format: 224 pgs., Full-Color, Hardcover
ISBN: 978-1-9325-6379-5
ICv2 Ratings: 3 Stars out of 5
My Favorite Martian The Complete Series Volume One
reprints the first seven issues of the Gold Key comic based on the classic 1960's situation comedy. This hardcover collection is digitally remastered and also includes supplementary essays and promotional material from the TV series.
Reading these comics brought back a lot of happy memories of watching the
My Favorite Martian
TV series. They were also a reminder that while the show was still very much a comedy, and sometimes a very silly one, a few of the early plots were fairly serious. Which makes Gold Key's choice of using artists like Russ Manning(!) and Dan Spiegle, neither of whom were exactly known for their humor work, make sense.
Both do a fine job with the scripts by the incredibly prolific Paul S. Newman especially Spiegel on "Priscilla Loves Melvin," an impressively ahead of it's time story that depicts an escaped gorilla not as a runaway monster but a lonely, loving creature. Things get sillier in later issues though when artists Sparky Moore and Mike Arens take over the art chores. As in a story when Uncle Martin accidentally daydreams up a 3-D version of a Martian creature -- who looks more like it escaped from an episode of
The Flintstones
.
This is one that could be enjoyed by anyone but fans of the TV show in particular should get a kick out of this volume.
--
Steve Bennett: Writer and retail services consultant