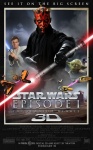 Movie marketing just hit another plateau with a scheme that hearkens back to the Great Depression when theaters routinely offered incentives like free dishes and tableware to encourage attendance. For the opening weekend (February 10th to 12th) of the 3-D re-release of Star Wars Episode 1: The Phantom Menace AMC Theaters in conjunction with Lucasfilm and Hasbro, will be offering a free, all-new Hasbro Star Wars Fighter Pod with the purchase of each Real 3D ticket at AMC theaters (limit one per ticket while supplies last).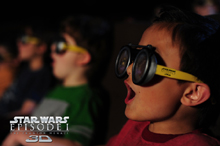 In addition 10 AMC theaters in major markets (Chicago, Denver, New York, Atlanta, Boston, Los Angeles, Phoenix, etc) will host special events on Saturday, February 11th at 11 am local time that will provide 3-D ticket holders with special Anakin Skywalker Podracer 3-D glasses, Darth Maul face painting contests, special character appearances, and demonstrations of the new Xbox Kinect
Star Wars
game.
There is quite a bit riding on the first Star Wars 3-D re-release, which, if successful, could lead to a steady stream of classic genre films in the 3-D format. Disney followed up a hugely successful 3-D rerun of The Lion King with a less than stellar performance (so far) by a 3-D version of Beauty and the Beast. It appears from Disney's efforts that the best results in 3-D reruns come from films that are truly exceptional performers (the cream of the cream as it were). While the Star Wars films in general are in that rarefied category, Phantom Menace is not the favorite Star Wars film of a very high percentage of fans, so that might explain the extensive marketing to insure that the program gets off on the right foot, even though most Star Wars fans would probably prefer that the 3-D reissues began with Star Wars Episode IV: A New Hope, the original Star Wars film that was the first to be released chronologically, though not the first film in the overall Star Wars narrative timeline.