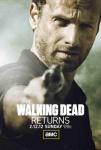 AMC has released an action-packed TV spot for the second half of the second season of the network's highly successful adaptation of Robert Kirkman's Image comic book series
The Walking Dead.
New episodes of
The Walking Dead
premiere on AMC on Sunday, February 12th at 9 pm (ET, PT).
The first half of
The Walking Dead's
second season improved on the first season's stellar ratings and made the series the top rated basic cable original drama ever for adults in the coveted 18-49 demographic (see "
Walking Dead the Best Ever
"). In addition to the 15
Walking Dead
graphic novels, the show has begun to spin-off an increasing amount of merchandise including action figures from MacFarlane toys and two board games (one based on the TV series and one on the comics). AMC has already released teaser footage from the first episode of the second season (see "
Ep 208 Preview
," and "
The Walking Dead 208 Teaser
" for more footage from season 2).