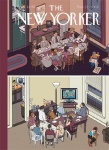 The economy may have been improving slowly and the Kardashian's marital exploits should have provided plenty of tabloid fodder, but newsstand sales of consumer magazines continued and even accelerated their decade-long tumble, falling 9.96% in the second half of 2011 compared with the latter half of 2010 according to figures released by Audit Circulation Bureau. It appears that the long term trend that has seen single-copy newsstand sales that has seen the newsstand circs of the bestselling magazines drop by nearly 50% from 2001 through the middle of 2011 (see "
A Losing Decade for Magazine Sales
").
The five bestselling newsstands, Cosmopolitan (-6.75%), Woman's World (-8.3%), People (-12%), First for Women (-10.55%), and In Touch Weekly (-8.71%) all posted declines in the second half of 2011. Other high profile circulation losers include Vanity Fair (down 20.1%), while Time lost 3.4% as its newsstand sales fell to 76,555, which is still better than Newsweek's total of 40,342 copies.
There were some winners including Game Informer Magazine, a video game mag that boosted its circulation by 48% aided by a promotion at GameStop stores. The venerable (and literate) New Yorker bucked the trend with a 2.8% gain in newsstand circ during the last half of 2011.
According to
The New York Times
, industry analysts believe that social media (mainly Facebook & Twitter) are as responsible as the online tabloid portals like TMZ for what appears to be the accelerating decline in the newsstand sales of consumer magazines.