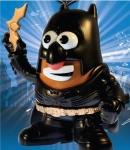 The lure of the "spud" has overcome corporate rivalry as Warner Bros. Consumer Products is teaming with Hasbro for a line of Mr. Potato Head figures based on DC superheroes. This agreement comes in spite of the fact that Hasbro's rival Mattel has the master toy license for DC Comics, while Hasbro is the current home of the license for Marvel Comics-based toys.
The DC-based
Mr. Potato Head
figures are directly inspired by Christopher Nolan's
The Dark Knight Rise
s, which debuts this summer and is sure to be one of the major movies of 2012. So naturally
Batman
will be the first DC
Mr. Potato Head
figure, which should hit retail in June ahead of the July debut of
The Dark Knight Rises
.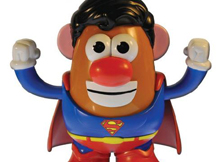 The Dark Spud
figure will be followed by a classic
Superman Mr. Potato Head
and a
Wonder Woman Potato Head
figure, both of which will be out in plenty of time for the 2012 holiday season. More DC-based
Mr. Potato Head
figures are slated for release in 2013.