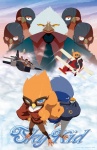 Namco Bandai will launch a Webcomics site, ShiftyLook, to develop new comics based on vintage game properties. ShiftyLook will be an IP development and community platform "…where we can quickly test new ideas and get the community's reaction," Bandai Namco EVP and Representative Director Shin Unozawa said.
The series are planned as 2x/week for 13 weeks, with renewals for the most popular. Depending on the reaction to the Webcomics series, the properties may be expanded in the near term into mobile games, Web animation, hobby products and related merchandise.
The first property to get the ShiftyLook treatment will be Sky Kid, a 1985 Namco arcade game. The Webcomic will be created by Udon Entertainment, with art by Jim Zub and art by Jeffrey "Chamba" Cruz.
Additional properties, drawn from "sleeping" game franchises in the Namco Bandai vaults (e.g., 25-year-old arcade games, including some Japan-only games) will be announced in the run-up to the launch of the site in March.
ShiftyLook will be headed by Rob Pereyda, Manager, Business Development, Network Strategy Office of Namco Bandai. Prior to his roles at Namco Bandai, Pereyda was VP-Licensing at anime site Crunchyroll.